If you are beginning to grow German or Roman chamomile, learn how to harvest chamomile, dry the fresh flowers, and make tea long into the winter months.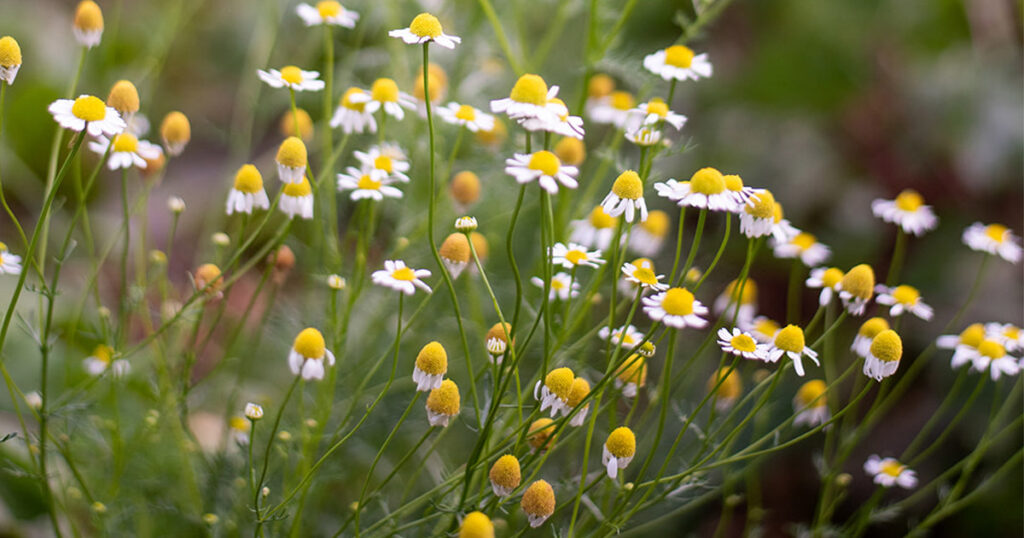 Chamomile is a great companion plant and attracts beneficial garden insects like ladybugs and honey bees!
Plus I can't resist walking past my chamomille and pinching off a blossom just to smell the sweet scent they emit. It's almost like a sweet pineapple. Plus they're adorable when grown for a cut flower garden to dot your boquet with little white flowers.
What is Chamomile?
Chamomile is an herb with small daisy-like flowers. It's easy to grow in herb gardens, and can be used to make tea, skin salves and essential oils.
Dried chamomile blossoms contain many terpenoids and flavonoids which are responsible for its medicinal properties.
The most common types of chamomile are Roman chamomile and German chamomile.
German Chamomile – German chamomile (Matricaria recutita), is a perennial which grows to approximately 24 inches tall and does well in all zones. It has fern-like stems which branch out with small flowers.
Roman Chamomile – Roman chamomile (Anthemis nobilis) is a low growing perennial. It grows well in partial shade in zones 4-11. Roman chamomile has feathery stems which grow to a height of about 12 inches which have tiny buds.
How is Chamomile Used?
Chamomile is easy to grow and harvest, and is one of the most popular teas in the world. It's delicious and refreshing and comes with significant health and skin benefits.
It's important to note that I am not a certified medical practitioner, and this post is not intended to diagnose or treat but is for informational purposes only. Please contact your medical care professional before introducing new herbal remedies into your wellness routine.
Menstrual Pain – Consuming chamomile has been known to reduce the pain of menstrual cramps.
Skin Conditions – Salve made with dried chamomile leaves works well for dry elbows and knees.
Lowering Blood Sugar – Drinking chamomile tea can lower blood sugar levels.
Slowing Osteoporosis – Drinking chamomile tea may slow the progression of osteoporosis especially with post-menopausal women.
Reducing Inflammation – Chamomile tea contains compounds that may help to reduce inflammation.
Helps with Sleep and Relaxation – Chamomile is used widely around the world to help people relax and fall asleep.
Treating Cold Symptoms – Inhaling the steam of chamomile tea can loosen congestion and help with cold symptoms.
Upset Stomach – Chamomile can be used to help alleviate an upset stomach.
Heart Health – Chamomile contains flaone antioxidants which are known to improve heart health.
Hair Rinse – Rinsing your hair with chamomile tea after washing it can give you lovely summer highlights.
As a Companion Plant – Chamomile is a wonderful companion plant for cabbage, cauliflower and broccoli. Growing chamomile between the plants keeps the weeds down and the flowers repel the cabbage moth. To learn more about organic pest control read here.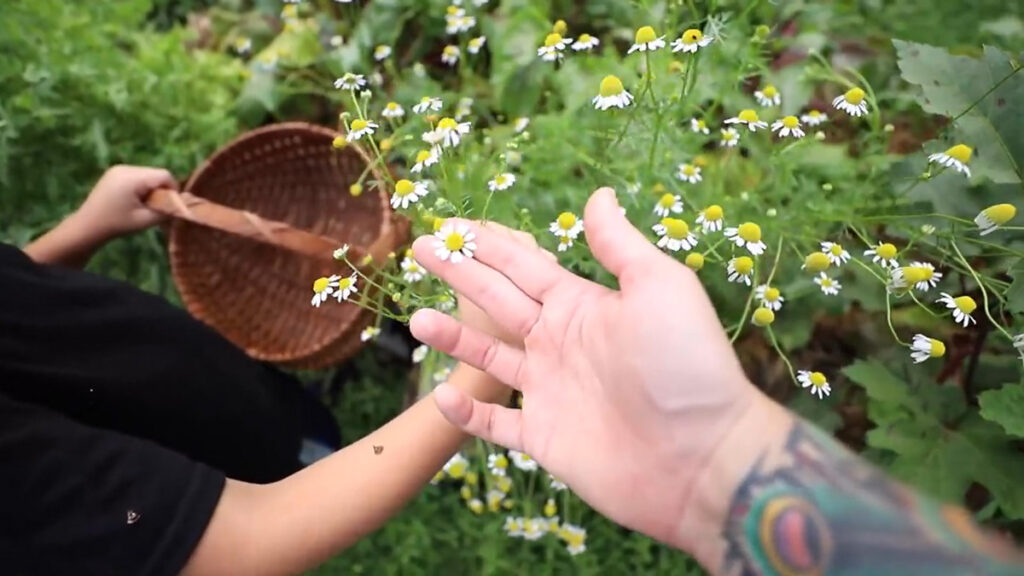 When to Harvest Chamomile
Chamomile should be harvested when flowers are blooming and the petals are flat. It's ok to harvest them a little before or a little after but this is when the most medicinal properties are present.
The optimal time to pick chamomile is late morning after the dew has dried and before the heat of the day.
How to Harvest Chamomile
Harvest the flowers by gently pinching the flower head off right below the base. Don't pull on the plant since that might damage the stem of the plant or pull the roots out.
The wonderful thing about harvesting chamomile is that the more you pick, the more it grows back because picking the flowers tells the plant to keep producing.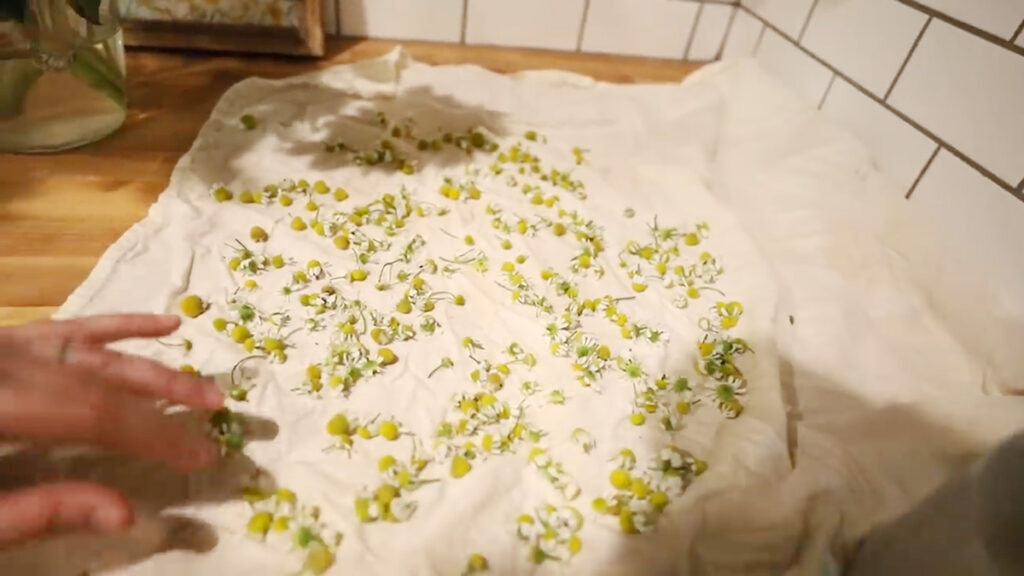 How to Dry Chamomile
After harvesting chamomile flowers you will want to dry them. You can use a food dehydrator on the lowest setting but I prefer to air dry them by laying them out in a single layer on a screen or a flour sack towel.
Be sure to turn the flowers so that all sides dry completely.
Pro-Tip: If your chamomile plants are sprayed, you can rinse them by putting them in a colander and rinsing gently. If they aren't sprayed then there is no reason to wash them first.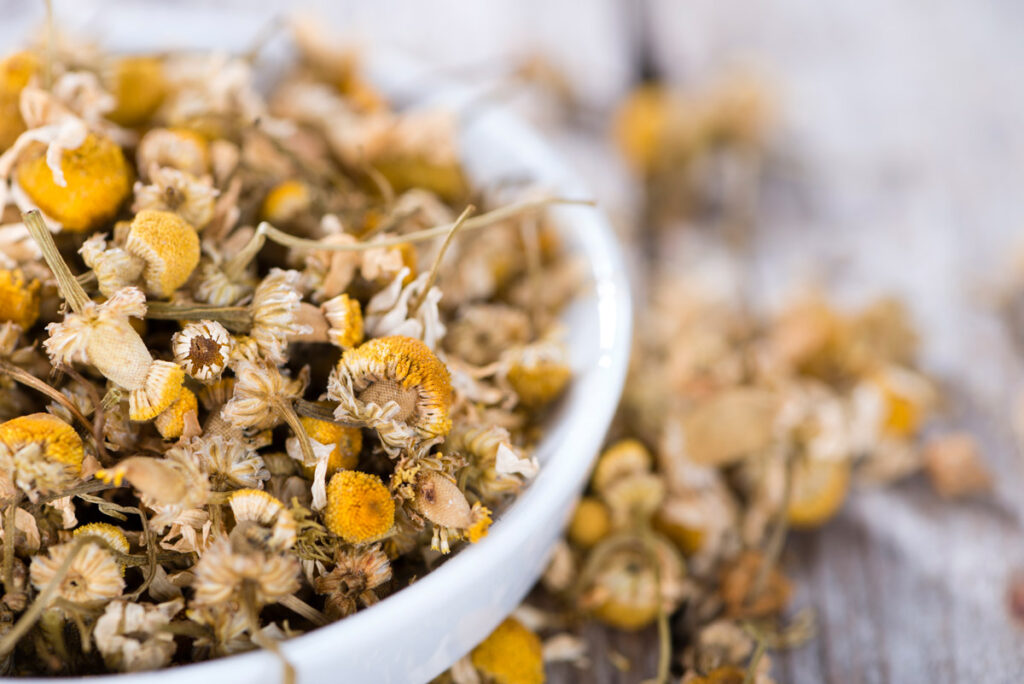 Supplies Needed for Making Chamomile Tea
Teapot – Heat your water to boiling with a teapot.
Tea Infuser – If you don't have a tea infuser the tea can be steeped in a French press, or loose leaf style using a strainer to remove the chamomile before drinking.
Ingredients Needed for Making Chamomile Tea
4 Tablespoons Fresh Chamomile Flowers – Use 1 Tbs. if using dried chamomile flowers. If you're using fresh flowers to make your tea, you should cover it with a napkin so that the medicinal properties don't escape with the steam.
8 oz. Water – Tap water is fine.
Choice of Sweetener – If you prefer a sweeter tea, I love honey in mine, but any sweetener works or you can omit the sweetener.
Pro-Tip: Try adding lavender, apple mint leaves or lemon juice to your chamomile tea for a fun twist.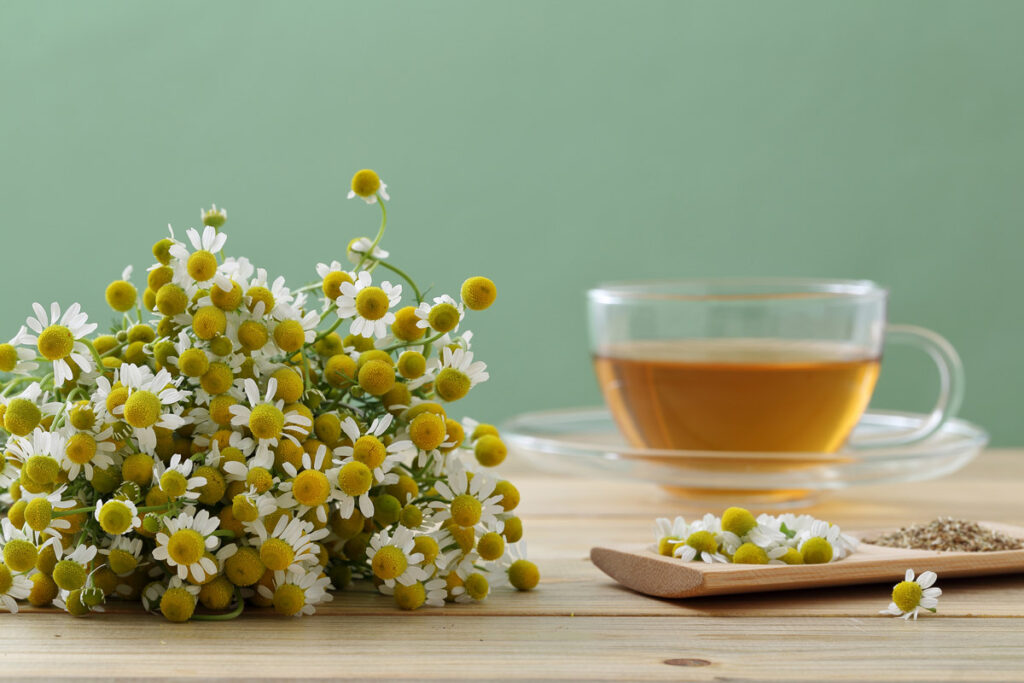 How to Make a Cup of Chamomile Tea
Boil water.
Place fresh or dried chamomile flowers into a tea infuser.
Place the infuser in a large cup and pour boiling water over it.
Allow to steep for about five minutes.
Enjoy your hot tea with or without your favorite sweetener.
Did you make this recipe? If so, I'd love for you to leave a star rating on the recipe card below! Then snap a photo of your beautiful harvest and your cup of tea and tag me on social media @roots_and_refuge.
More Recipes You May Enjoy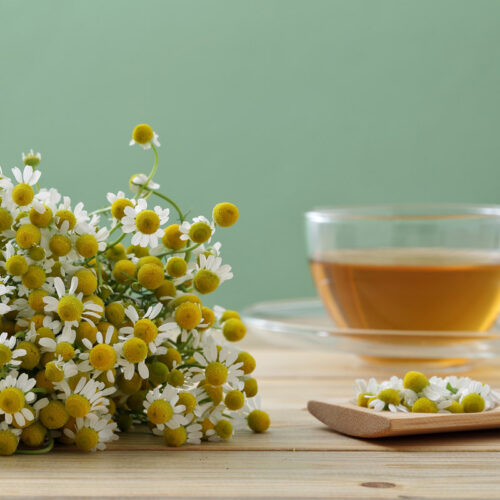 Chamomile Tea Recipe
Enjoy this simple chamomile tea recipe any time of year. Grow, harvest and dry your own chamomile flowers and you can have an endless supply!
Print
Pin
Rate
Ingredients
4

tablespoons

chamomile flowers

fresh (use 2 tablespoons if dried)

8

ounces

water

boiling

sweetener of choice

optional
Instructions
Place fresh or dried chamomile flowers into a tea infuser.

Place the infuser in a large cup and pour boiling water over it.

Allow to steep for about five minutes.

Enjoy your hot tea with or without your favorite sweetener.
Video
Notes
I like to sweeten my tea with honey, but stevia, monk fruit, or regular sugar works as well.
Try adding lavender, apple mint leaves or lemon juice to your chamomile tea for a fun twist.