Growing beautiful cut flowers is very rewarding, even if you don't plan to sell them. Have you ever wanted to ask a professional what flower varieties are easy to grow direct from seed and which are the best cut flower varieties? Well, I've got your back. That's exactly what I did and I'm sharing those answers and tips with you. Now you can have lovely, fresh-cut bouquets that you grew in your own garden and come out smelling like a rose.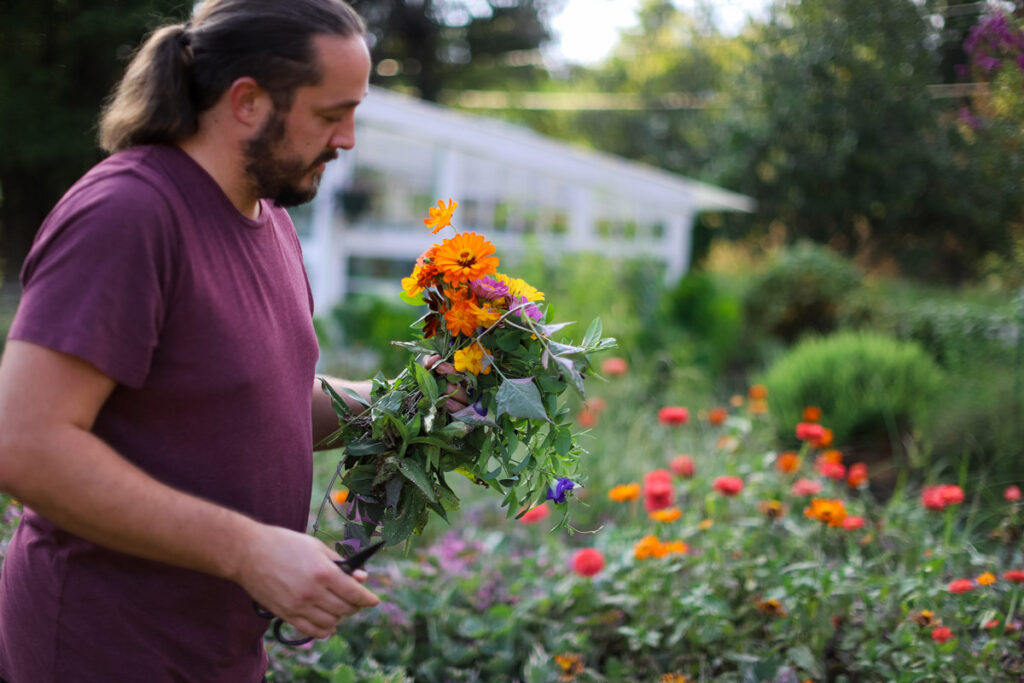 Why I Love Growing Flowers
I love creating beautiful, aesthetic garden spaces that are enjoyable to spend time in. Flowers add a layer of beauty and appeal to any space.
I encourage everyone to grow something lovely even if you are only planting a vegetable garden. Your garden will benefit from the flowers because they attract pollinators and help keep pests away.
And you will benefit from the charm. Growing cut flowers allows you to bring that beauty indoors to cheer up any room.
A friend of mine, Sunflower Steve, has been growing flowers for a good long while. Like most flower farmers, his career has been focused on production. But he shared with me how much he values growing something beautiful just for the joy of looking at it as well.
Planning a New Cut Flower Garden
Steve took some time to help me plan my flower garden and I want to pass along some of his tips on growing great cut flowers.
Gardening techniques are not one-size-fits-all. Whether you want to grow a dedicated cut flower garden or just plan to add cut flowers to your raised beds, these tips will help you on your way.
Do some research – Find out what your hardiness zone is and what will grow in your zone. You can find all of this and more in my garden planning basics post.
Talk to someone – Find someone who is already growing flowers in your area and ask them what grows well where you live. They may be able to share some wisdom specific to your area that will help you successfully grow great flowers.
Get a soil test – You may already know that soil pH is important for growing vegetables, but it's also essential for blooms. You won't get near the flower show if you don't have good soil.
Create a sterile seedbed – This will save you so much work in the long run and your flowers won't have to compete with unwanted plants to get what they need. An easy and inexpensive way to achieve this is by preparing a garden bed with cardboard.
Flower Seed Starting
There is no universal rule for starting a cut flower. Depending on your zone and other factors, you may decide to start your flower seeds indoors or direct sow them in the ground.
This post on starting seeds indoors has a lot of helpful information on starting seeds including when to start, what supplies you'll need, and how to harden off your seedlings to get them ready to plant outdoors.
If your goal is high yields of cut flowers throughout their season, you may want to try succession planting. To do this, stagger your planting instead of planting all of your seeds at the same time. Sunflowers, zinnias, and cosmos can all be succession planted.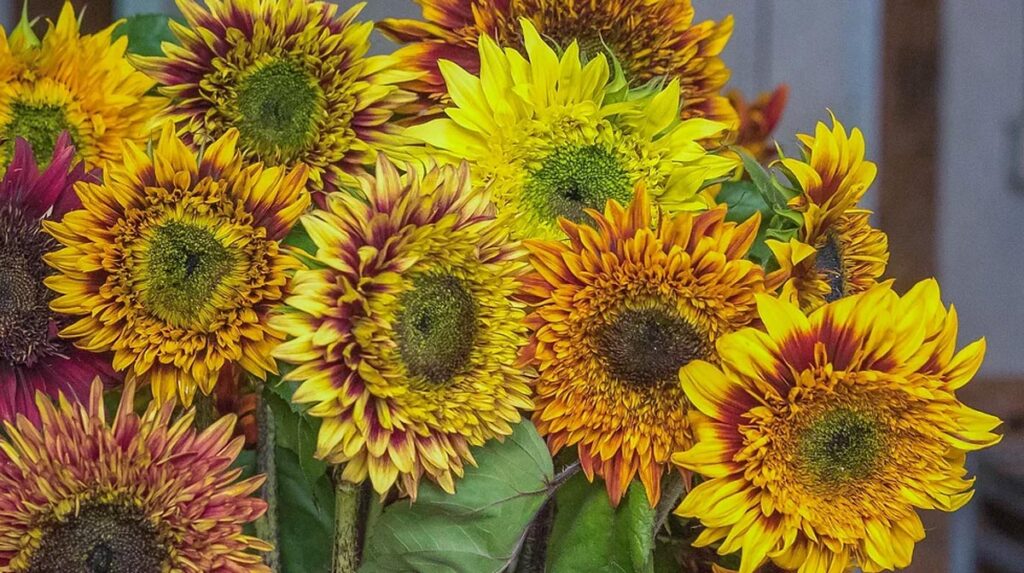 What Are The Best Cut Flowers To Grow From Seed
More than just something lovely to look at, these four flowers are hardy and easy to grow in many zones.
Sunflowers
Sunflowers and zinnias top Steve's list of cut flowers to grow. It's easy to grow sunflowers from seed and they are long-lasting which makes them a great choice for cut flower gardens.
There are so many fabulous sunflowers. Steve has developed some of the most stunning sunflowers that I have ever seen. Check them out on Sunflower Steve's Instagram.
For cut sunflowers that you are bringing inside, try pollen-less varieties like the F1 Hybrid, the ProCut series, and the Sunrich series. They won't get pollen all over your table and have a great vase life, but they still produce a lot of nectar so the bees love them too.
Zinnias
Zinnias are fun for beginners and seasoned gardeners alike because they thrive and produce impressive flowers with basic care. And did you know that they are naturally deer resistant?
Zinnias will grow in zones 2-11 and have a long growing season. You'll be harvesting flowers all summer long, right up until the first frost.
Benary's Giant zinnias are mammoth, as the name suggests. They usually come in bright, bold, tropical colors that look stunning in an arrangement. Floret's Flowers also has some beautiful soft pastel color zinnias.
Dahlias
These lovely flowers are a favorite of Sunflower Steve's. They come in a wide array of colors and your pollinators will love them.
Dahlias can be grown from seed, but are often started from tubers. They are only winter hardy in zones 8-11, which means that you may have to dig them up each winter as Steve does, but he assures me that the reward is definitely worth the extra work.
Cosmos
Cosmos are daisy-like flowers that attract birds, bees, and butterflies. They have long stems that can be cut to length to fit any size vase and the blooms and foliage look great in arrangements.
Cosmos keep producing more and more flowers as you cut them.
If you're looking for a low-maintenance flower that even tolerates poor soil conditions, look no further. They are definitely one of the best cut flowers to grow in your garden and one of the easiest.
Perennial Flowers to Grow for Cutting
Perennials are wonderful because they keep growing back year after year without replanting. They generally require little time and effort on your part.
Peonies
If you've ever bought a bouquet of peonies, you know that they are expensive. Have you ever thought of growing your own so that you can enjoy their beauty again and again?
The peony is known for its glamorous blooms. It has a good vase life too. You can even store cut peony flowers in the fridge for one to two months.
Lilacs
You won't regret planting a few lilac shrubs by your house. Each spring for a few weeks, they will be filled with fragrant clusters of tiny flowers. Their wonderful strong, sweet aroma will become the smell of springtime.
Lilacs most commonly produce flowers in pastel hues of purple, pink and white. They are stunning in a cut flower arrangement with other flowers or on their own.
Let's Grow More