Time to get those hands in the soil!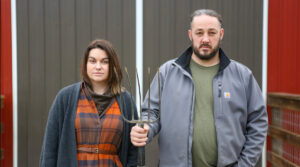 Come learn from the mistakes we made over the years and save yourself countless time, money, energy and stress.
Everything you need to know! How to buy, pollinate and even save seeds. Jess walks through it all!
We spend lots of time in the Garden!
Full on rabbit hole here! Watch one...watch them all =)
How to Grow The Best Tomatoes | Gardening Tips and Tricks
Grow Salad Greens All Winter For Less Than 20 Dollars | Gardening Tips | Roots and Refuge
A Complete Guide to Vertical Gardening (On A Budget!) | Growing Food Made Simple
How to Build An Arched Trellis for 30 Dollars | Vertical Gardening
If You Only Learn ONE Stitch, Make it THIS one! 🤩⭐
How to Plant Tomatoes the Best Way | Gardening Advice and Tips | Roots and Refuge Farm
How to Prune Tomatoes for MAXIMUM yield (and Other Tomato Tips) | Roots and Refuge Farm
How to Sow Carrots Seeds (The simple trick to good germination every time!) | Gardening Tips
$7 Kiddie Pool Raised Garden Bed | CHEAP Container Garden Ideas | Roots and Refuge