This basic farmhouse quiche recipe is the kind of meal that you can throw together last minute when you either run out of time or forget to make a dinner plan. It's an excellent way to use up excess eggs and all the little bits of meat and veggies left-over from previous meals. Below is my basic quiche recipe.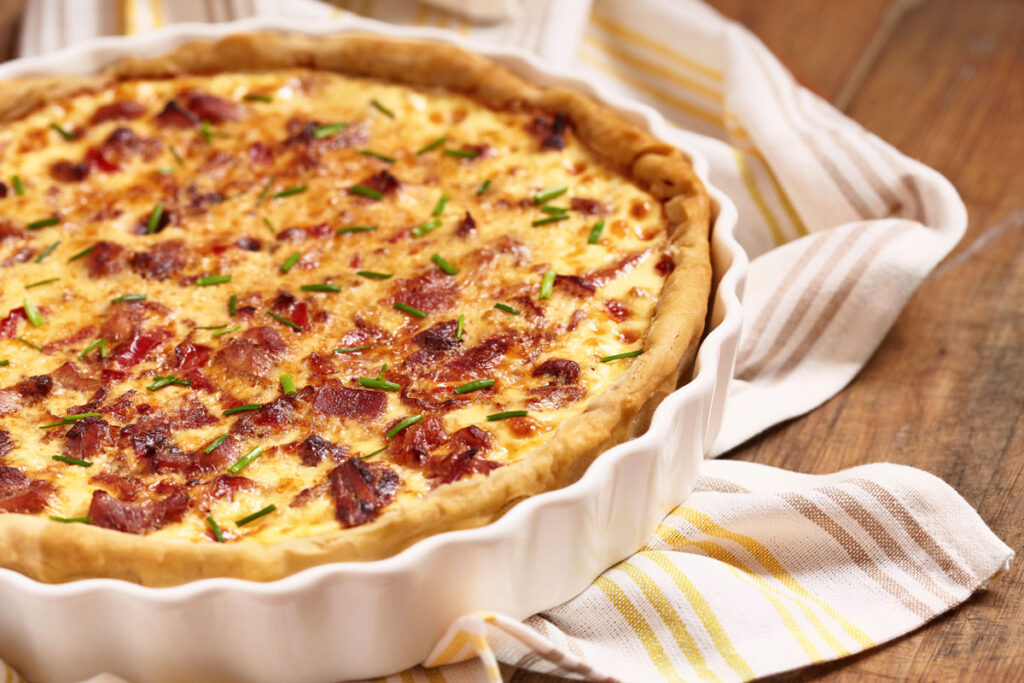 One of the first dishes I ever cooked was a quiche. In my mind at the time, it was difficult! I obviously didn't know much about cooking anything, so of course it was hard!
A few years later, we stayed at a Bed and Breakfast and were served a delicious quiche. The cook commented on how easy it was to make, so I decided to try again. It really is so easy and has now become a dish that I make so often my family kinda groans about it!
If you don't know, this Spatchcock chicken recipe is another go-to, and in that post I also share the book I learned to cook from (and feed my family of hungry boys)!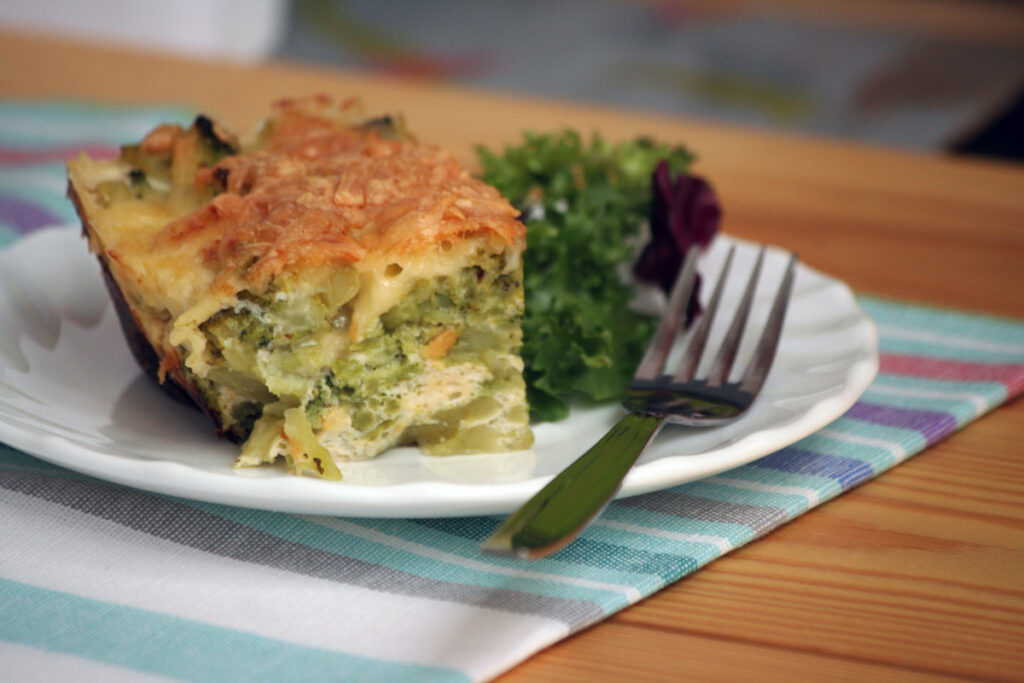 What Is Quiche?
Quiche is basically an egg pie. You can find crustless quiche recipes, but my recipe starts with a pie crust. Everything is better with pie crust! This quiche and homemade cocoa cream pie are some of my favorite ways to use pie crust!
The quiche filling is made of only eggs, cheese, and milk! There are many variations, but you can make a delicious meal with just these few ingredients. It should have a light, fluffy texture when finished….almost like a custard.
Why I Love To Make Quiche
This dish is as easy or complicated as you want to make it. When I make it for my family, I keep it simple, usually only adding things I already have in the refrigerator.
However, when I make it for other people, I tend to spend more time making sure everything is made from scratch and also adding more ingredients.
I am going to share the recipe with the encouragement to break it! I want you to use it only as a guideline and I give you permission to make it your own. Be creative and tailor it to your taste!
There are many different add-ins you can try. Here are a few suggestions:
Small amounts of meat – I like to use up the last few pieces of bacon in the fridge, sausage, or shredded chicken breast meat. You can even chop up lunch meat. Just make sure the meat is cooked before you add it.
Vegetables – Caramelized onions are my favorite! Spinach, kale, tomatoes, or pretty much anything that grows in your garden works beautifully. My only suggestion is to first saute the vegetables to cook out some of the water. This prevents liquid from pooling up on top of your baked quiche.
Different cheeses – Feta is really good and a favorite in our house. But Swiss, Pepper Jack, Parmesan all work, too… any combination of your choice!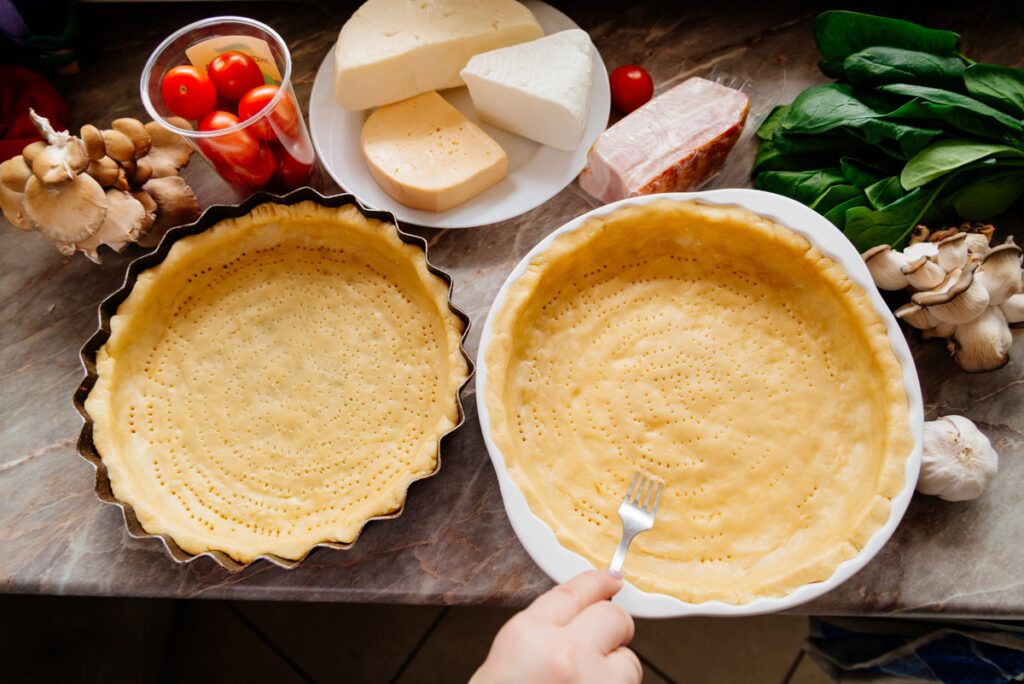 Ingredients for Recipe
Pie Crust – You can either use a store-bought pie crust or make your own from scratch. If you buy it, make sure to buy the deep-dish size. Most of the time, I make my own crust. However, I have no guilt in admitting that I will sometimes use store-bought! I know that the ingredients in the store-bought crusts are not ideal, but there are times I need a really fast meal! What I'm feeding my kids in a store-bought crust is still way better than running to town for pizza or fast food!
Eggs – 5 large eggs is about the right amount for one deep-dish pie.
Shredded Cheese – 5 ounces of any type (see my favorites above)
Parmesan Cheese – Either grated by you or from the big green can. Your preference!
Milk, Cream, or half-n-half – I used to just use goat's milk because that's what we had. But now that we have our dairy cow, Hope, I love using all raw cream for a richer quiche, or a combination of raw cream and milk.
Seasonings – Thyme, oregano, and garlic add great flavor, but you can add whatever seasonings you like. Even just salt and pepper is fantastic. I add different seasonings according to what I think would go well with the other ingredients I'm using.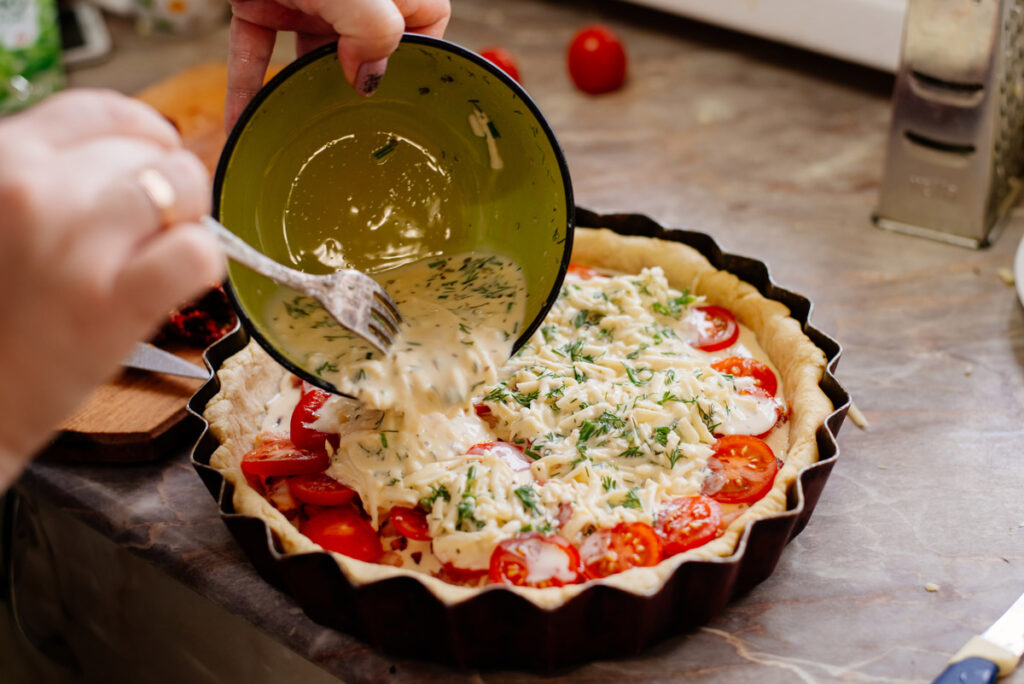 How To Make the Quiche
Begin by preheating the oven to 400° Fahrenheit.
Roll out your pie crust to fit your pan. Go for whatever look you want and call it rustic!
Spread cheeses evenly on the bottom of the pie crust.
If you choose to add additional ingredients, add them now. Sprinkle small pieces of meat over cheese. Or, saute some veggies and add. Don't put in too many heavy ingredients, or you will risk losing the light, fluffy texture.
Crack eggs in a small bowl and mix until broken up.
Add your milk (or cream) to the eggs and mix together.
Pour carefully over the other ingredients and shake the pan slightly to even out.
Season according to taste and ingredients you added. For instance, if you added bacon, you probably don't want to add a lot of salt. Or, if you add a cheese like pepper jack, you might not want to add too many other flavors as you risk overpowering your taste buds!
Place it in the oven and bake @ 400°F for 15 minutes. After 15 minutes, lower the temp to 375°F for an additional 25 minutes. Keep an eye on the quiche while it is baking. You want the eggs to set up and brown slightly without burning the edges of the crust.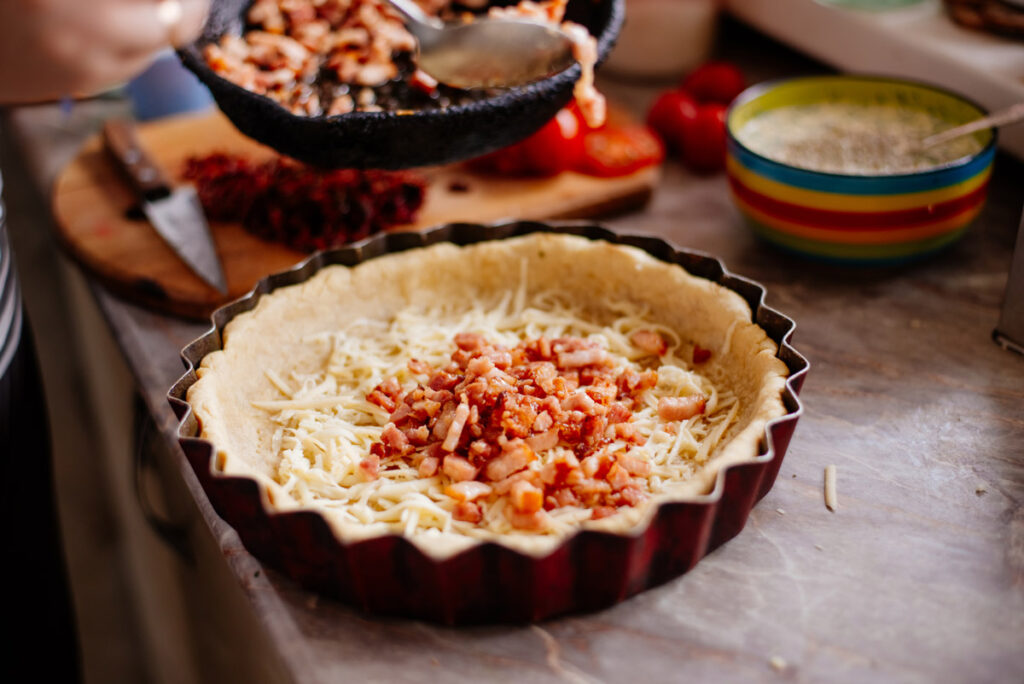 What To Serve With Your Quiche
What to serve with your quiche somewhat depends on what time of the day you are serving your meal. At breakfast, it goes great with a cup of pour-over coffee perfection.
We also like to serve it with a basic fruit salad, a simple plate of sliced tomatoes, or a green salad.
Did you make this recipe? Leave a star rating on the recipe card below, then snap a photo and tag us on social media @roots_and_refuge so we can see!
More of Our Favorite Recipes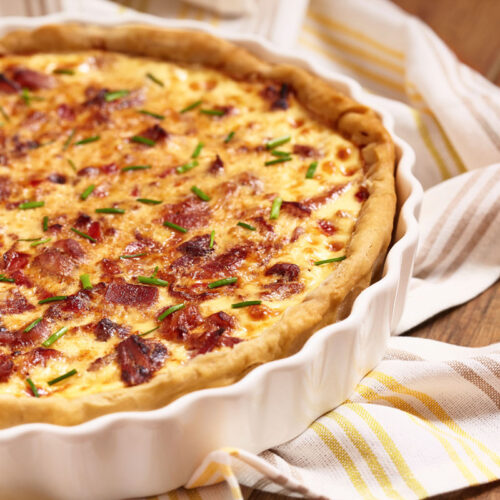 Farmhouse Quiche Recipe
This is a very basic farmhouse quiche recipe and a great way to use up excess eggs around the farm. It's rich, creamy, versatile and incredibly delicious.
Print
Pin
Rate
Ingredients
5

large

eggs

1

cup

milk

cream or half & half

1/4

cup

parmesan

grated

5

ounces

cheese

shredded

1

deep dish

pie crust

store-bought or homemade

salt & pepper

to taste

1

teaspoon

seasonings

1

cup

additional mix-ins
Instructions
Preheat the oven to 400° F.

Roll out pie crust and place it in the pie pan.

Beat the eggs and cream in a bowl until well mixed, set aside.

Place both cheeses in teh pie shell and spread out evenly.

Top with meat or veggies, if using.

Pour egg mixture over ingredients.

Bake for 15 minutes at 400° F then lower temp to 375° F and cook for another 25 minutes or until the top is golden brown.
Video
Notes
Nutrition facts based on a quiche made with whole milk and no mix-ins. Nutrition facts will vary based on the ingredients used.
Nutrition
Serving:
1
slice
|
Calories:
149
kcal
|
Carbohydrates:
3
g
|
Protein:
10
g
|
Fat:
11
g
|
Saturated Fat:
6
g
|
Polyunsaturated Fat:
1
g
|
Monounsaturated Fat:
3
g
|
Trans Fat:
1
g
|
Cholesterol:
140
mg
|
Sodium:
218
mg
|
Potassium:
112
mg
|
Fiber:
1
g
|
Sugar:
2
g
|
Vitamin A:
431
IU
|
Vitamin C:
1
mg
|
Calcium:
227
mg
|
Iron:
1
mg