Spatchcock Chicken, Roasted Potatoes, and Green Beans
Come cook a farmhouse spatchcock chicken dinner with me, complete with roasted potatoes and green beans from the garden. See just how easy it can be to feed a large family (of mostly boys!) and taste this delicious chicken with the crispiest skin you'll ever have.
A question I get asked a lot is how do we eat? Since we grow most of our own food, what does a meal look like? It has become second nature to me, but I know and understand it might seem quite unusual.
We're big on making meals like farmhouse quiches using what we have on hand, and you all know my love for cast iron (check out this post where I make my case for cast iron cookware), and I truly love feeding my family foods that I know where it came from and what is in it!
I think it's also important to note that you don't have to slave away in your kitchen for hours to put a delicious and impressive meal together that nourishes your family.
Let me walk you through the meal prep of a common meal I cook for my family often, and I hope it encourages you to give it a try!
Let's Start With the Meat
We're cooking chicken tonight….a chicken that was raised on our farm, and lived his happy, little chicken life moving around the yard, eating grass, and scratching for bugs.
The method I'm using tonight to cook this chicken is called spatchcock. I learned this from a cookbook called Mad Hungry/Feeding Men and Boys by Lucinda Scala Quinn. This is the cookbook that I learned to cook out of, and I highly recommend it.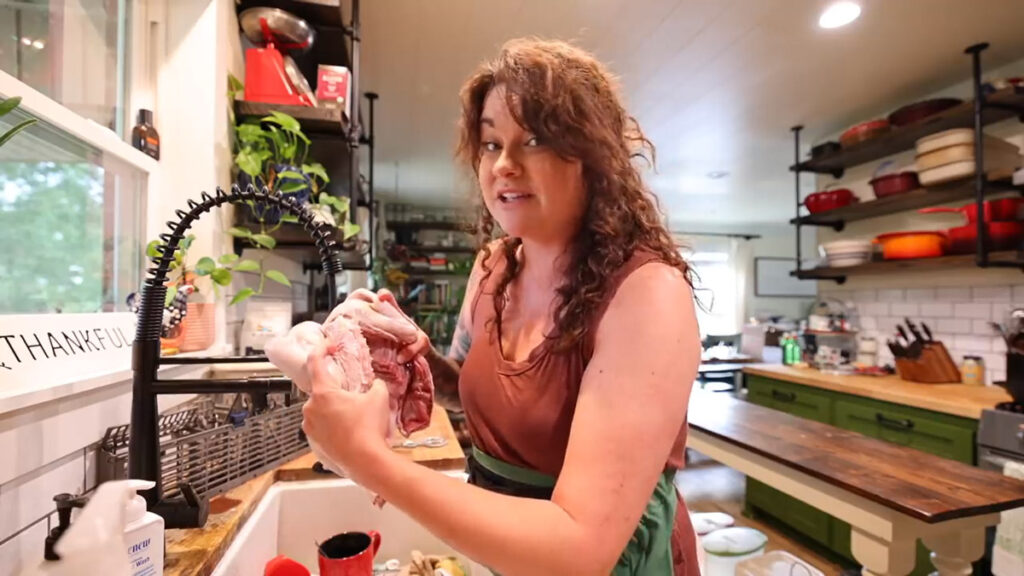 What is Spatchcock Chicken?
A spatchcock chicken is a game bird or chicken that's been split open and grilled or roasted.
To spatchcock a chicken you remove the backbone which allows it to be opened up and spread flat. This helps the meat to be cooked more quickly because it's cooking evenly on a flat surface. Some people use a brick wrapped in tinfoil to press the chicken down into the pan so all parts brown evenly, but I haven't found this is necessary.
The skin will cook to crispy, golden perfection right in the cast iron pan!
You will likely read to cut down both sides of the breastbone. I actually like to only cut down one side and keep the backbone with the chicken to cook it rather than removing it completely. I do this because I will later use the backbone to make bone broth and want the flavors that roasting adds.
How to Cook Spatchcock Chicken
Preheat the oven to 400° F.
Heat a 12-14 inch cast iron pan on the stove with a few tablespoons of either oil, butter, or ghee (or a combination of them). You want the pan pretty hot, but not smoking, because you want the chicken skin to get slightly crispy when it hits the oil.
Generously salt and pepper the chicken.
Place chicken breast side down in hot oil for about 4 minutes. Flip it and repeat on the other side. Look for it to be golden crisp.
Roast the chicken in the oven (in the same pan) for approximately 45 minutes, or until the internal temperature reaches 165° F.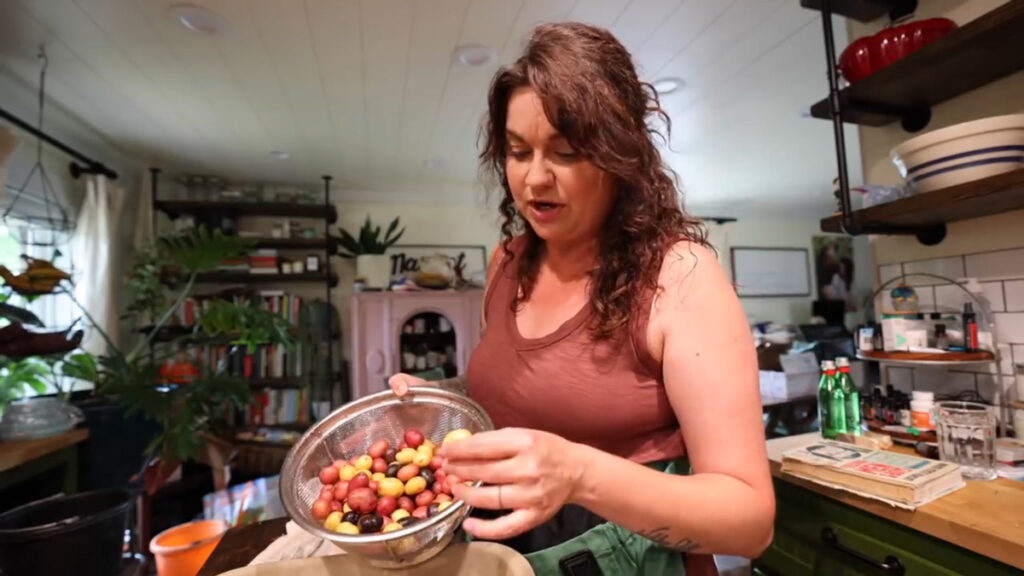 Roasted Potatoes
While the meat is frying, wash and rinse the potatoes.
For a family the size of ours, I recommend about 2 pounds of the little, round potatoes.
Put some melted ghee, butter, or oil in the bottom of a rectangular baking pan. Place potatoes in the pan and season with smoked paprika and herbed salt.
Roast in the oven along with the chicken. It should take about the same amount of time. Prepare for some delicious aromas!
Head to the Garden
Now we're going scavenging for some veggies! My green beans are starting, so we'll gather as many of those as are ready.
I love my Roo Apron for garden gathering!
Let's also pick a few onions and some garlic while we're out here, and let's not get carried away harvesting or the family will never eat!
Easy Green Beans
Rinse beans and onions in a colander.
Pop ends off the beans….Kids can help!
Slice onions and put them in a pan to saute on medium heat.
Add green beans, garlic, and some herbs.
Saute together and, if you like, add in a small amount of water and cover to steam the beans.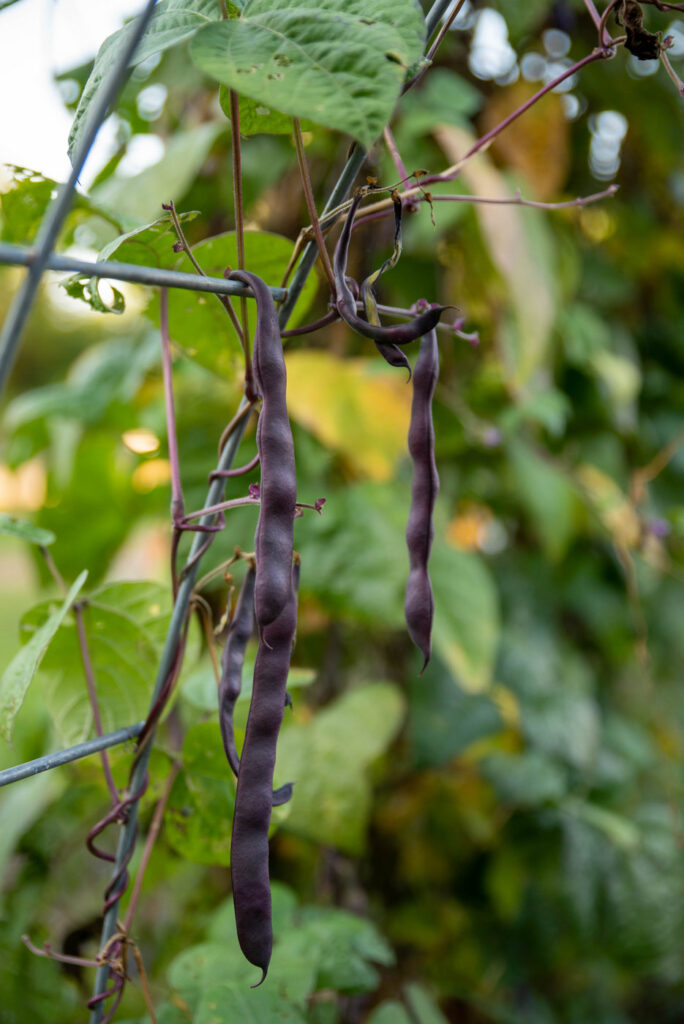 Tips On How Many Beans to Plant
One of my first lessons in bean planting was that you have to plant a lot of beans! If you're going to be consistently eating them fresh, and if you have a big family like we do, 16 ft. of pole beans is a good amount to grow.
For bush beans, because you don't get as many harvests from them, plant a 32 ft. length row so you will be able to pick enough to make it worth your time to preserve them… if that's your intention anyway.
When preserving, I prefer to blanch and freeze instead of canning. Canning makes them a little mushy, but some people prefer that. 
Dipping Sauce for Chicken
I always make a dipping oil for the chicken, and it is delicious!
Olive oil
Lemon juice
Garlic
Salt
Crushed red pepper
The ratio of oil to lemon juice is approximately ⅔ oil to ⅓ lemon juice. Add crushed garlic and seasonings to taste and stir to emulsify.
Time To Eat
Everything should be finished cooking at about the same time! Cut the chicken and drizzle with pan drippings and a little of the dipping sauce.
Call in the hungry masses! Dinner's ready!
Did you make this recipe? If so, we'd love for you to leave a star rating in the recipe card below! Then snap a photo and tag us on social media @roots_and_refuge so we can see!
More Related Posts
Spatchcock Chicken Recipe
This is hands down my favorite way to cook a whole chicken. Crispy skin and juicy meat every single time! Plus, it cooks faster when it's Spatchcock!
Print
Pin
Rate
Servings:
8
chicken pieces
Ingredients
1

whole

chicken

3

Tablespoons

ghee

or oil, or butter

Salt

to taste

Pepper

to taste
Instructions
Preheat the oven to 400° F.

Using kitchen shears, cut down along one side of the backbone of the chicken.

Heat a 12-14 inch cast iron pan on the stove with a few tablespoons of ghee.

While the pan is heating, generously salt and pepper the chicken on all sides.

Place chicken breast side down in the hot pan and cook for about 4 minutes.

Flip chicken carefully and cook on the other side for 4 more minutes. Look for it to be golden and crisp.

Transfer the pan from the stove to the preheated oven and roast the chicken for approximately 45 minutes, or until the internal temperature reaches 165° F.
Notes
When cutting the backbone of the chicken, y

ou can cut along both sides of the backbone to completely remove it, however, I like to leave the backbone on the chicken to use for broth making later (roasted bones make a much more delicious broth).
Nutrition
Serving:
1
g
|
Calories:
269
kcal
|
Protein:
19
g
|
Fat:
21
g
|
Saturated Fat:
8
g
|
Polyunsaturated Fat:
4
g
|
Monounsaturated Fat:
8
g
|
Trans Fat:
1
g
|
Cholesterol:
91
mg
|
Sodium:
72
mg
|
Potassium:
193
mg
|
Vitamin A:
143
IU
|
Vitamin C:
2
mg
|
Calcium:
11
mg
|
Iron:
1
mg