Improve your health and learn the basics of juicing 101. This is a simple introduction to juicing, complete with my favorite fresh-pressed juice recipe.
Juicing is a healthy and beneficial way of life. With many different recipes out there, there will be a juice that will fit your taste buds and your health needs.
Read on as I give an introduction to juicing, and learn why we have decided to add juicing to our daily routine.
Why We Started Juicing
Eating clean whole real foods is the best thing for you. We watched a video called Fat, Sick and Nearly Dead that really inspired us to start drinking juices.
At the time I recorded the video, we had been making fresh juiced fruits and vegetables daily. Within a couple of months, we definitely saw the benefits of juicing from healthier skin, weight loss, and more energy.
It's important to note that I am not a certified medical practitioner, and this post is not intended to diagnose or treat but is for informational purposes only. Please contact your medical care professional before introducing new herbal remedies into your wellness routine.
What is Juicing
Juicing is a process where you extract the juice from fresh raw fruits and vegetables, separating the pulp and fiber from the liquid. The fruit or vegetable juice contains quality antioxidants, vitamins and minerals.
Juicing makes it easier to digest and absorb large amounts of nutrients in the body. One glass of fresh juice can give you more vitamins, minerals, and antioxidants than you might eat in a whole day.
Benefits to Juicing
Juicing is not the fix-all for health but is a start and a good healthy choice. It's a way to invest in yourself and your family.
Fueling the body with naturally occurring vitamins, antioxidants, minerals, and enzymes boosts one's overall health.
The benefits of juicing are healthier skin, mental clarity, and more energy. It boosts the immune system and even helps with weight loss.
Types of Juicers
There are two main types of juicers out there, the centrifugal juicer and masticating juicer. Many different brands within these two types are available.
Centrifugal Juicer – The centrifugal juicer sheds the produce into a pulp, then separates the pulp for the juice.

Pros for this machine are that it works at a high speed. It makes the juicing process a lot faster. The cost for this machine is on the lower end for juicers.
Cons for the centrifugal juicers are that the juice breaks down faster, the juice will have foam, it is loud, it doesn't break down leafy greens well, and it is a pain to clean.
Masticating Juicer – A masticating juicer is a cold press juicer. It grinds the produce slowly and then presses the liquid out.

Pros for the masticating juicer are a quieter machine, the juice will last up to three days in the refrigerator, and it is easier to clean.
Cons for this juicer are that you need to prep food more, it takes longer to press the juice, and its cost is higher than its competitor.
Tips for Juicing Success
Don't use avocados or bananas to juice, they are too mushy and have little liquid within the fruit. You can always eat these fruits or blend them into your juice.
Don't waste the pulp. Use it in your compost or feed it to your livestock. You can also dehydrate it to make crackers or seasoning.
Juicing 101 FAQs
Can I Juice without a Juicer?
Yes, you can. You will need a blender, cheesecloth or strainer, and a container to catch the juice. This way may take a little longer and may not extract all the liquid out of your fruits and vegetables, but it can be done.
Simply prepare and blend your fruit in a blender, then strain it through the cheesecloth into a container. As the juice strains through, you can squeeze and press the pulp to extract as much juice as possible.
Do I Need to Drink Fresh Juice Right Away?
Drink your fresh juice soon as possible. Oxidation will begin to deteriorate the beneficial nutrients, so juicing the night before to drink the next day won't provide the same benefits.
If you aren't able to drink it right away, it's still safe to consume. Fresh juice can be refrigerated for 48-72 hours or can be frozen so it does not go to waste.
Is Juicing Worth the Cost and Time
It takes about 40 minutes a day to make our juice. It is time-consuming but so worth it in the long-term health benefits we are receiving.
Our juice costs about $4.00 per glass of 32 oz. juice. I do prefer organic fruits and veggies so our price will be slightly higher than if you didn't buy organic (or grow your own!).
Definitely do not be swayed by organic vs. non-organic, just do what you can afford, or try to stick to the "Clean Fifteen & Dirty Dozen" list to determine which produce you should buy organic or non-organic.
Either way, whole natural produce is better for you than fast artificial food.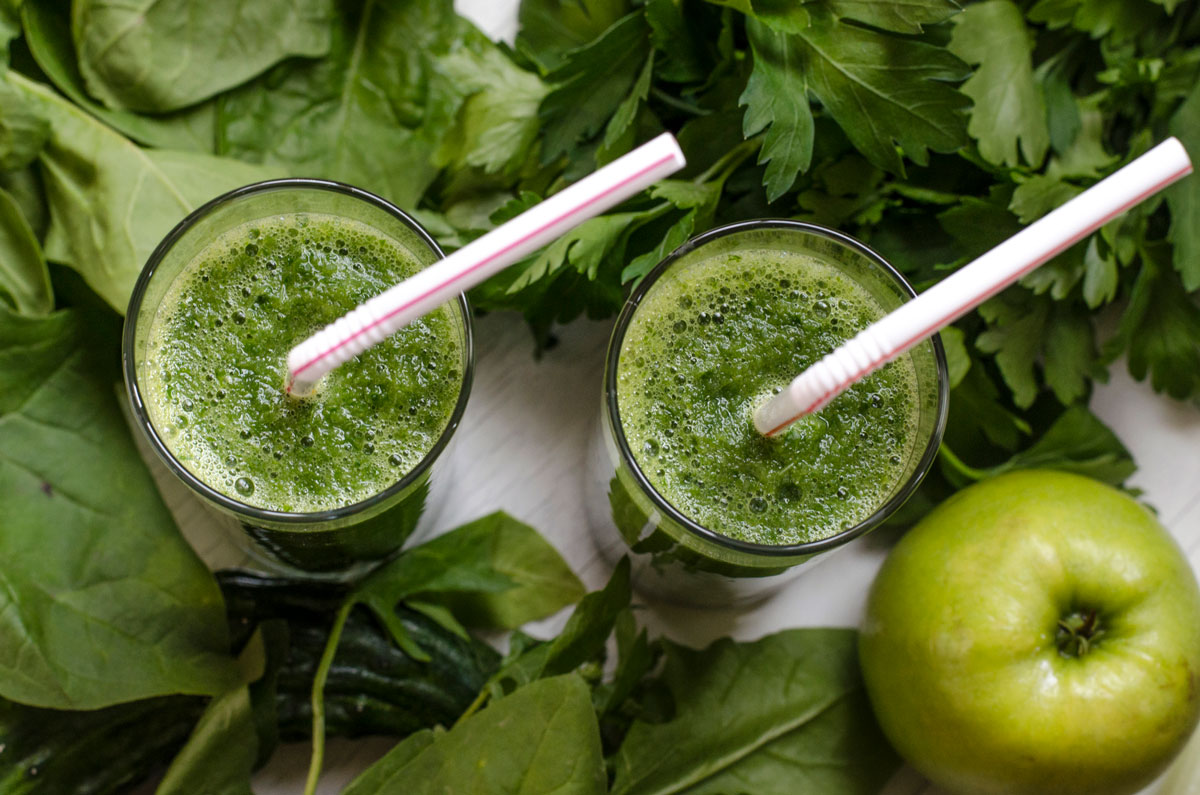 Easy Green Juice Recipe
There are many juicing recipes, but this is our favorite.
Ingredients
1 bunch of kale or spinach
3 celery stalks
3 carrots
1 whole lemon
2 apples
1 cucumber
Instructions
Wash all vegetables and fruit.
Feed vegetables and fruits into your juicing machine following the specific instructions of your machine. (For example, some juicers recommend coring an apple first.)
Enjoy! This recipe makes approximately 32 ounces of juice.
More Posts You May Like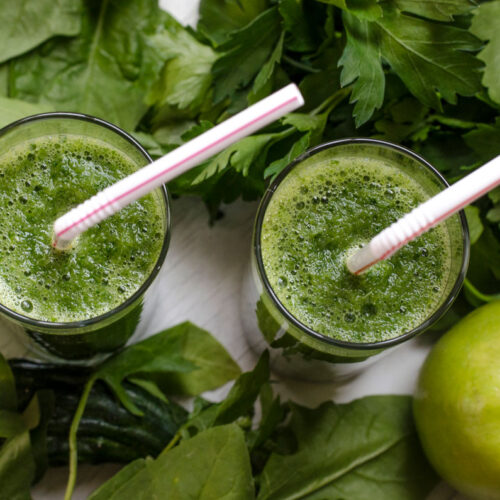 My Favorite Green Juice Recipe
This is my favorite green juice recipe that I've been drinking daily! Mix and match the flavors until you find your favorite.
Print
Pin
Rate
Ingredients
1

bunch

kale

or spinach

3

stalks

celery

leaves and all

3

whole

carrots

tops and all

1

whole

lemon

including the skin

2

whole

apples

green

1

whole

cucumber

including the skin
Instructions
Wash all vegetables and fruit.

Feed vegetables and fruits into your juicing machine following the specific instructions of your machine. (For example, some juicers recommend coring an apple first.)

Enjoy! This recipe makes approximately 32 ounces of juice.
Notes
Follow the instructions that came with your juicer. 
Mix and match the flavors. Adding sweeter fruits to start can help get your palette used to the stronger flavors of green juice. Try adding some pineapple!
Adding in other herbs and spices like fresh ginger can give your juice a nice spicy kick.
Nutrition
Serving:
32
oz
|
Calories:
65
kcal
|
Carbohydrates:
10
g
|
Protein:
5
g
|
Fat:
2
g
|
Saturated Fat:
1
g
|
Polyunsaturated Fat:
1
g
|
Monounsaturated Fat:
1
g
|
Sodium:
167
mg
|
Potassium:
779
mg
|
Fiber:
7
g
|
Sugar:
3
g
|
Vitamin A:
14029
IU
|
Vitamin C:
126
mg
|
Calcium:
380
mg
|
Iron:
2
mg