Arched trellises create beautiful, truly magical gardening spaces. This DIY garden arch trellis is made out of metal cattle panels and would work beautifully as a garden arbor. At around $30 each, it is cheap and easy to build. Here are step-by-step instructions on how to make these garden arbors plus what plants will grow on a metal arched trellis.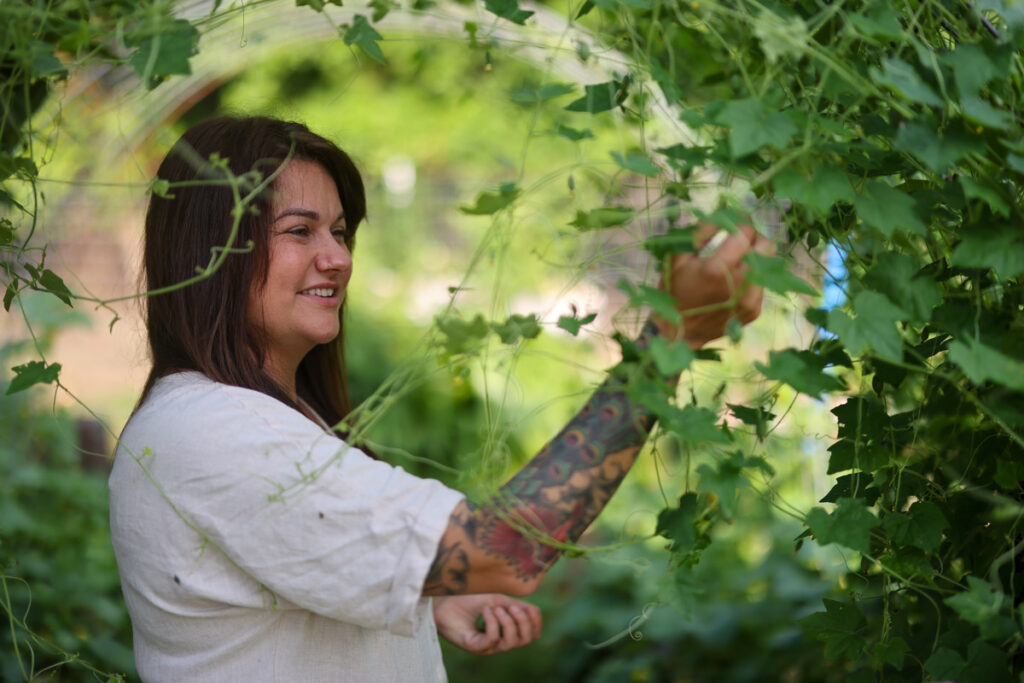 I believe the best medicine for the garden is the gardener. That's why making your garden into a place where you want to spend time is definitely better for the plants that are growing there. And that is exactly what the cattle panel trellises have done for me and my garden.
So let's set up a garden space that you want to be in!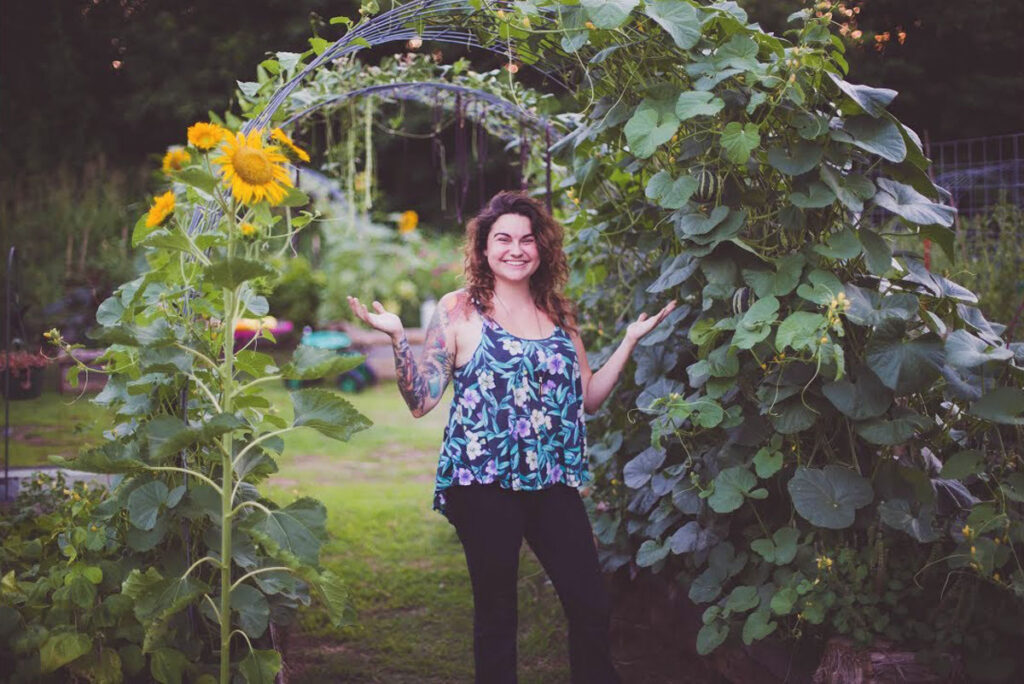 Why I Love Vertical Gardening
I'm a huge fan of vertical gardening because it expands the space you have. It's also quite affordable and relatively easy to set up.
Vertical gardening is so much easier on the gardener because they don't have to bend over to harvest crops and I've found it makes gardening much more successful.
A surprising amount of plants grow well on trellises. And harvesting is easier when the fruit is hanging down within reach, no kneeling, no digging through the leaves on the ground to find the fruits. It's just so practical!
I also have a Complete Guide to Vertical Gardening (On a Budget) available if you're ready to dive all in.
Building Cost
As I mentioned, we bought our cattle panels for about $30 each. The price may be different where you live, but for many, these may even be items you have laying around (or know someone who does).
We already had the T-posts, so there was no additional cost for them, but an average T-post (or a U-Post would work as well) costs about $5-$6.
We also always have zip-ties laying around, but a pack of 20 only costs a few dollars.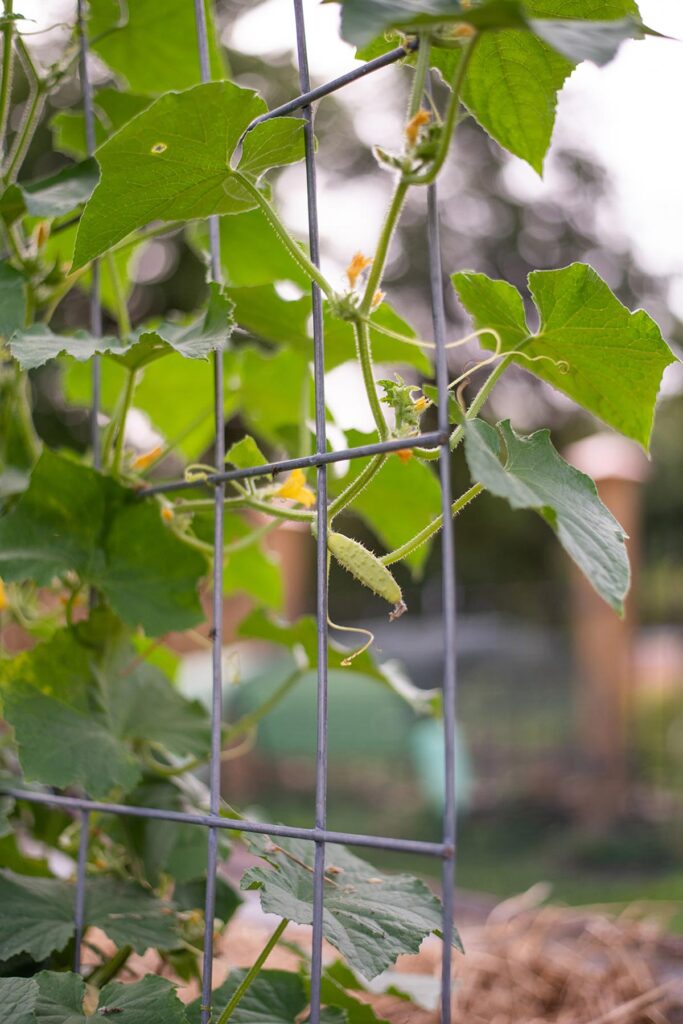 Supplies Needed
Building arbors or arched trellises out of cattle panels means that they are easy to assemble and easy to take down and move. This is perfect for rotational gardening and healthy for the soil.
They also hold up well to the weather, if you decide to leave them up for the winter. Some of ours have been up for several seasons with no issues.
My only caveat to that is to be sure you clean them up in the fall while the plants are still green. Dead, brittle plants are much harder to remove, which can be frustrating when you're ready to replant.
For each arched trellis you will need:
A cattle panel – approximately 18 feet long. They cost about $20 to $25, but I recommend calling around to find the best price.
2 metal T-posts – that are six feet tall. Five or seven feet tall will also work. These were around $5 each.
10 medium length Zip Ties – or a similar fastener. We like to use zip ties because they are cheap and easy to use.
That brings our total cost for each arched trellis to around $30 to $35.
How to Assemble an Arched Trellis or Garden Arbor
This project is very easy to do, but it is helpful to have two people. So grab a friend and let's get started.
TIP: Use the same process if you are installing the trellis in raised beds or directly in the ground.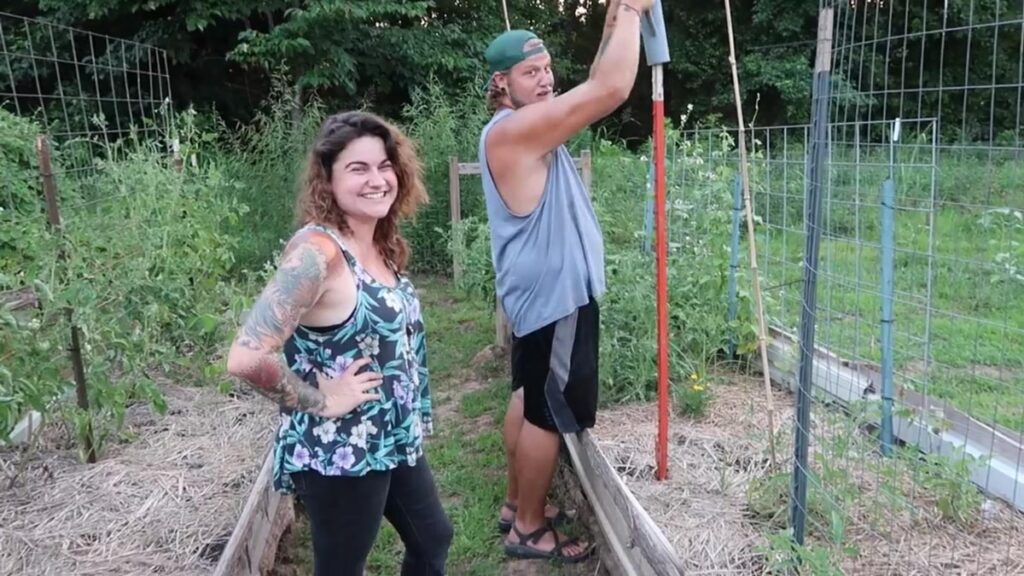 1. Drive the first T-post into the ground with the notches facing toward what will be the inside of the arched trellis.
If you are installing in a raised bed, leave about four to six inches (depending on what you're growing) between the edge of the bed and the post because you will want to plant your plants on the inside of the trellis.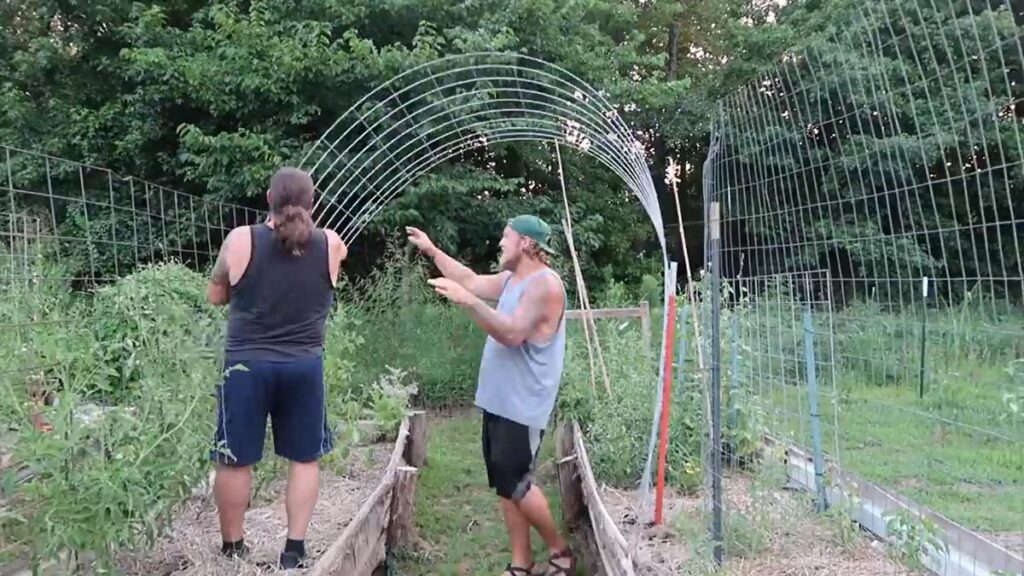 2. Place the short side of the cattle panel on the ground rising up the notched side of the T-post.
3. Bend the long cattle panel over your head and place the other short side in the other raised bed (or on the ground at the distance you prefer).
4. Adjust it until you are happy with the height and width of your arch.
NOTE: We placed our arched trellises in raised beds which brought the height up another foot or so. As you can see by the photos, there is plenty of room for a 6' tall person to walk under the trellis.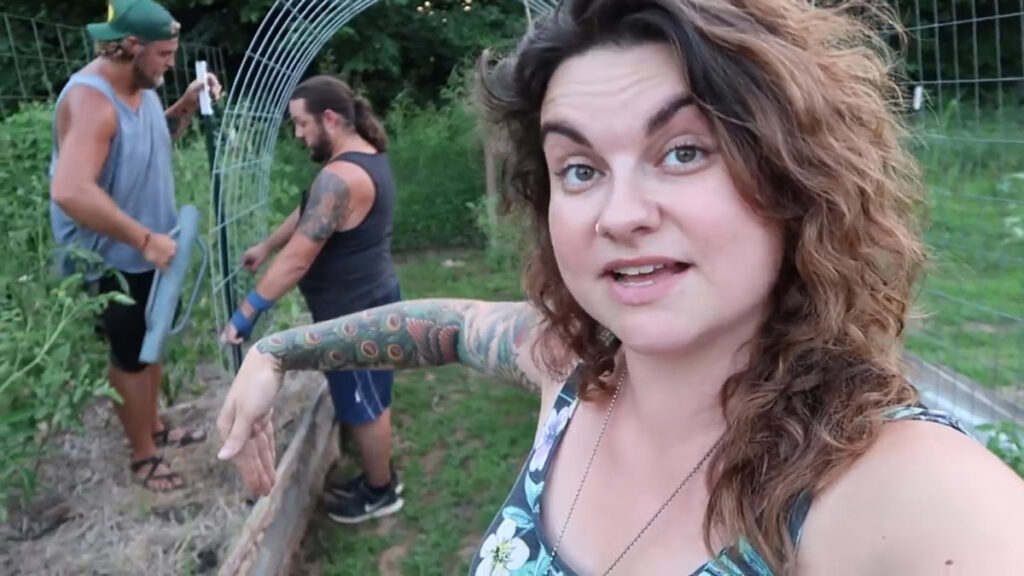 5. Line up the second T-post and make sure that both T-posts are centered in the middle of the cattle panel on either side.
6. While one person holds the panel in place, have another person drive the second T-post, with notches toward the panel, into the ground. The notches should grab the cattle panels and push the base into the ground just a bit. This is ideal, but not necessary if it doesn't happen.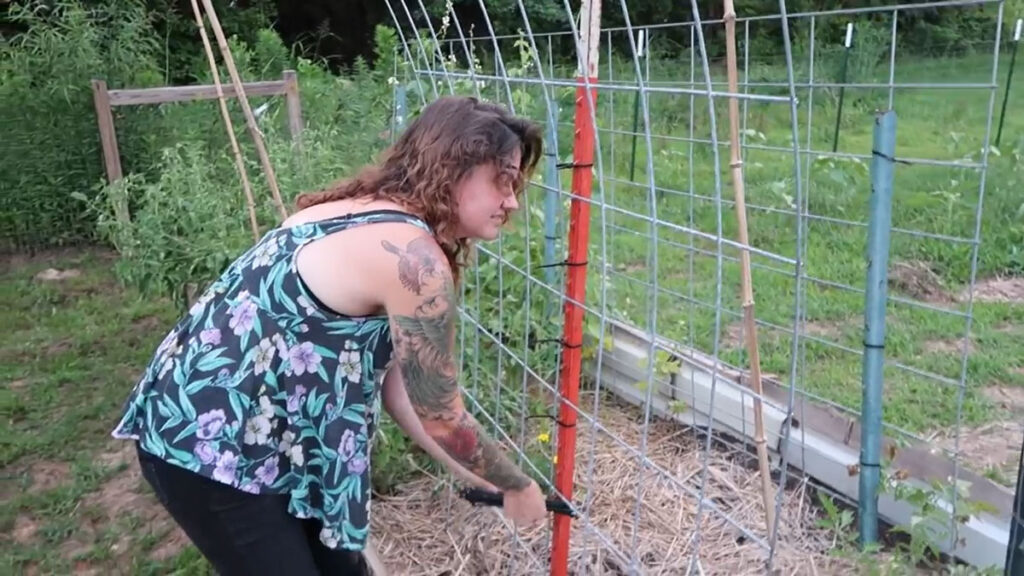 7. Secure the cattle panel to the T-posts with zip ties. Each zip tie should go around the T-post and part of the cattle panel. Use at least five or six zip ties on each post.
These metal arched trellises are really sturdy. I wouldn't recommend letting your kids use them like a jungle gym, but if you watch the video, Sweet Miah hangs with his full weight on the panel and it stays put.
The panels will have no problem holding the weight of your produce, vines, flowers, or anything else you decide to grow.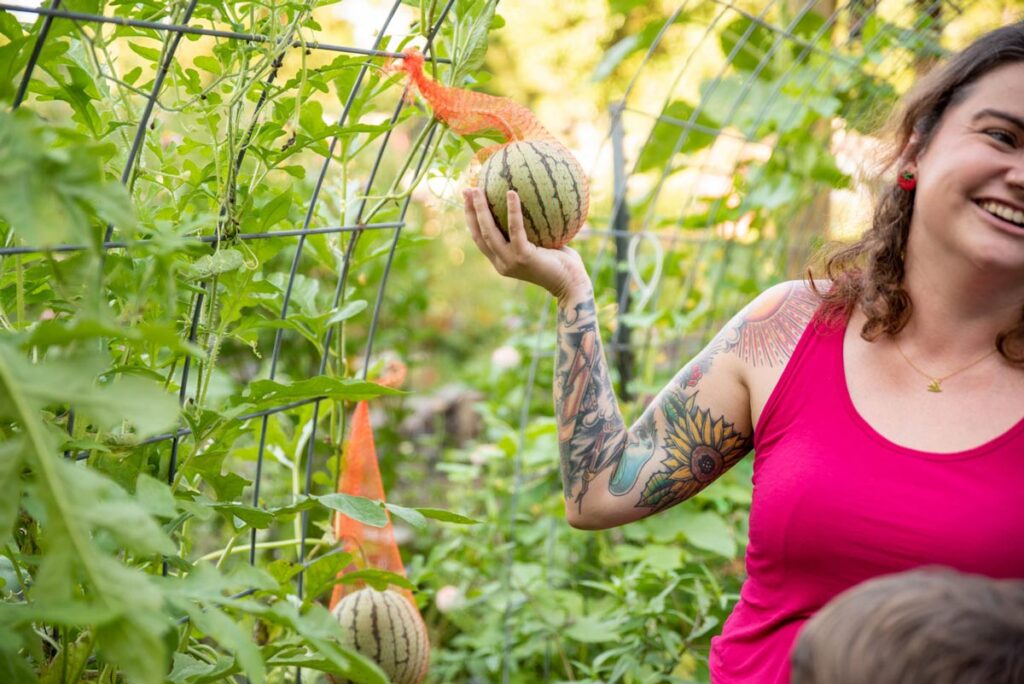 What Plants Will Grow On an Arched Trellis
A lot of different plants grow well on trellises. I've grown the following (and am continuing to experiment!):
Scarlet Runner Beans
Lima Beans
Pole Beans
Pickling cucumbers
Slicing cucumbers
Large winter squash
Personal-sized melons (like Banana melons and Kajari melons)
Noodle beans
Climbing Trip-L-Crop tomatoes
For more on planting and growing vertically, read Vegetable Garden Trellis: How to Plant & GROW.
I hope this helps you and happy gardening! I bless you, until next time.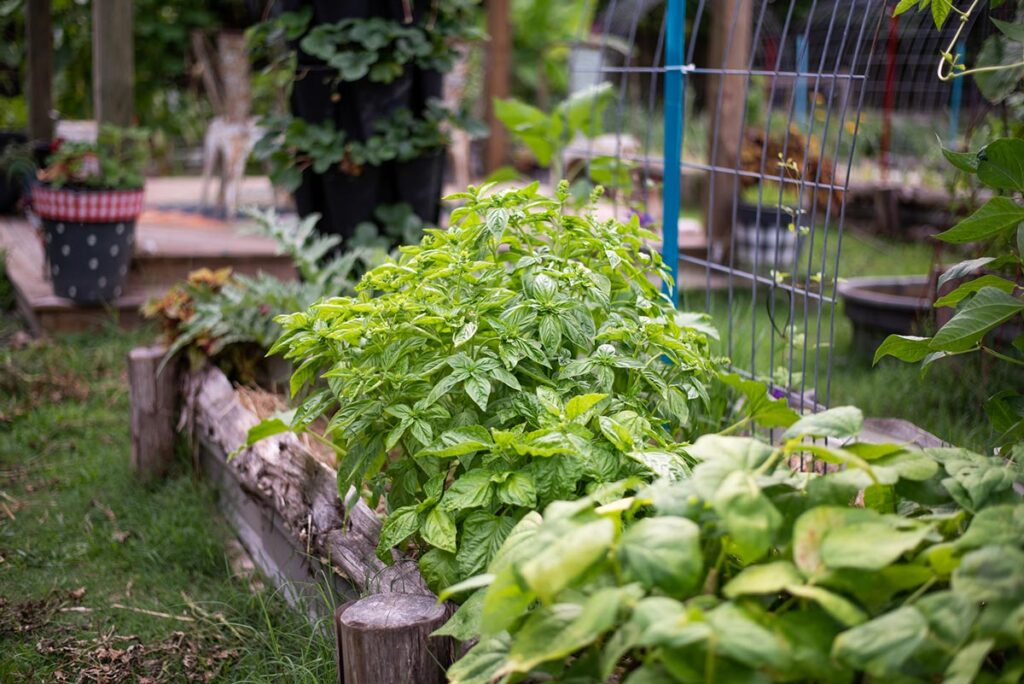 More Gardening Posts You May Enjoy