Are you looking for DIY vertical garden ideas to plant and grow your vegetable garden in a functional yet affordable way? Cattle panels are one of our favorite things to use in a variety of ways to make our vertical garden system.
Read on to learn how to build your own vertical garden planters without any special construction skills or expensive tools needed!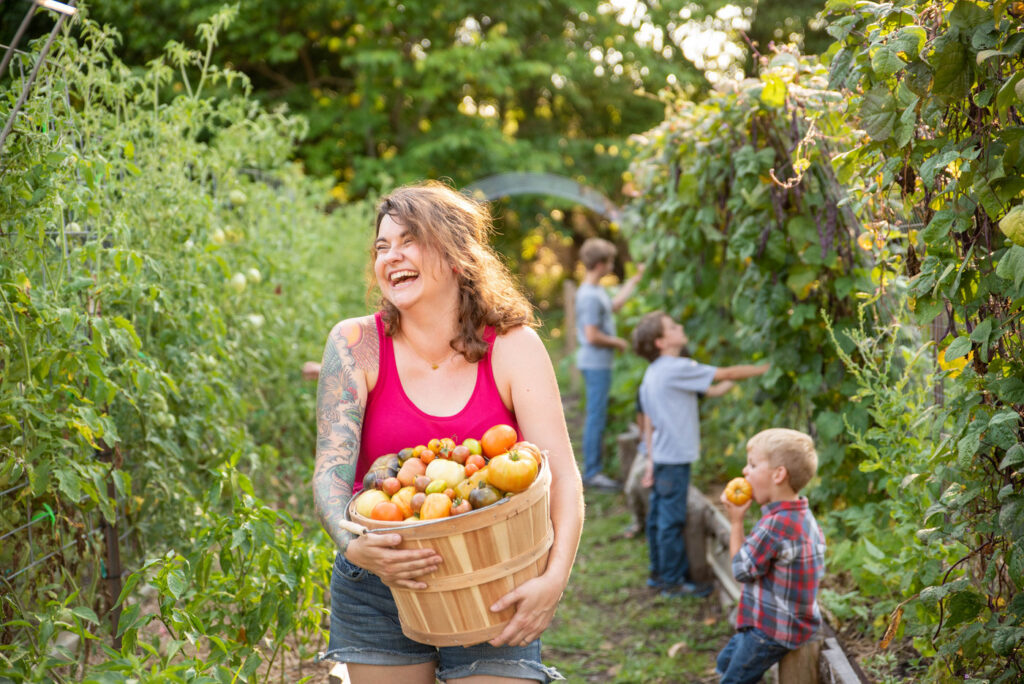 Why I Love These Vertical Gardening Ideas
I'm a huge fan of vertical gardening for both vegetable and herb gardens and have been successfully using this method for years. You can read my other posts on vertical gardening here:
By reducing the footprint of the sprawling plants like squash and cucumbers and growing them vertically, it expands the number of plants that can be grown in smaller gardens.
Vertical gardening is so much easier on the gardener too. The fruit grows up off the ground within reach; no kneeling to harvest is necessary.
Vertical gardening can also be quite affordable and surprisingly easy to set up in small spaces.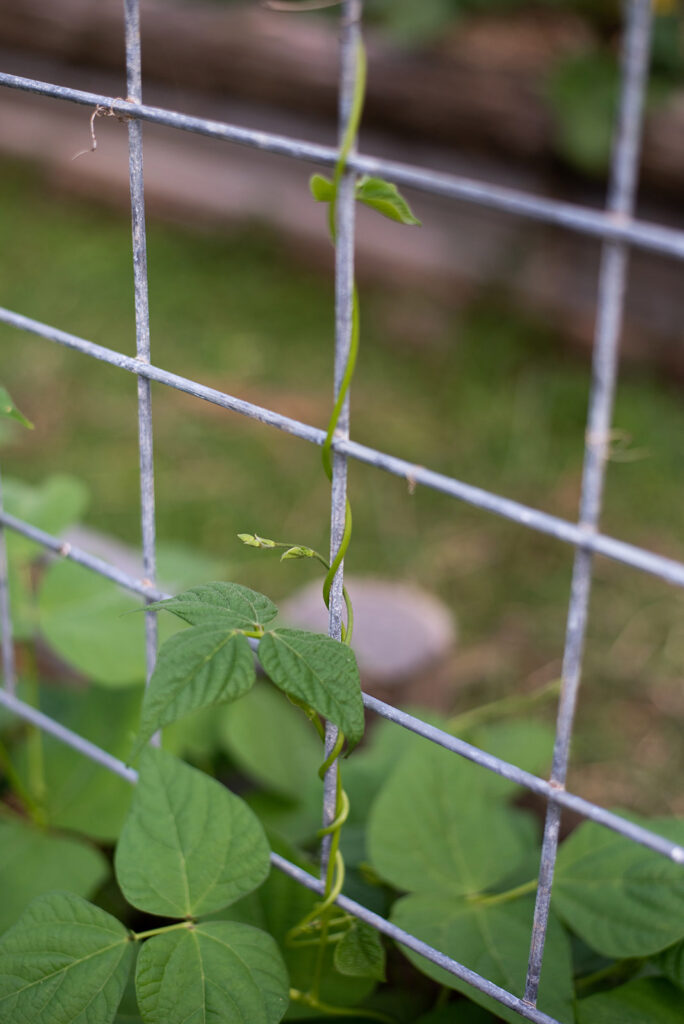 Why I Use Cattle Panels for Vertical Gardening
Cattle panels are a great idea to use because they last a really long time. Year after year, you are able to reuse them, pulling off old plants and planting new ones.
They will not rot like wooden trellises made from a pallet, and as long as you keep them out of standing water, you can also leave them up for the winter.
If you do decide to take them down and store them, they lay flat or can be leaned against a building taking up minimal space.
Cattle panels are also very sturdy, can handle a great deal of weight, and can be formed or bent into a variety of different configurations. They are easy to put up and don't require any carpentry skills to assemble.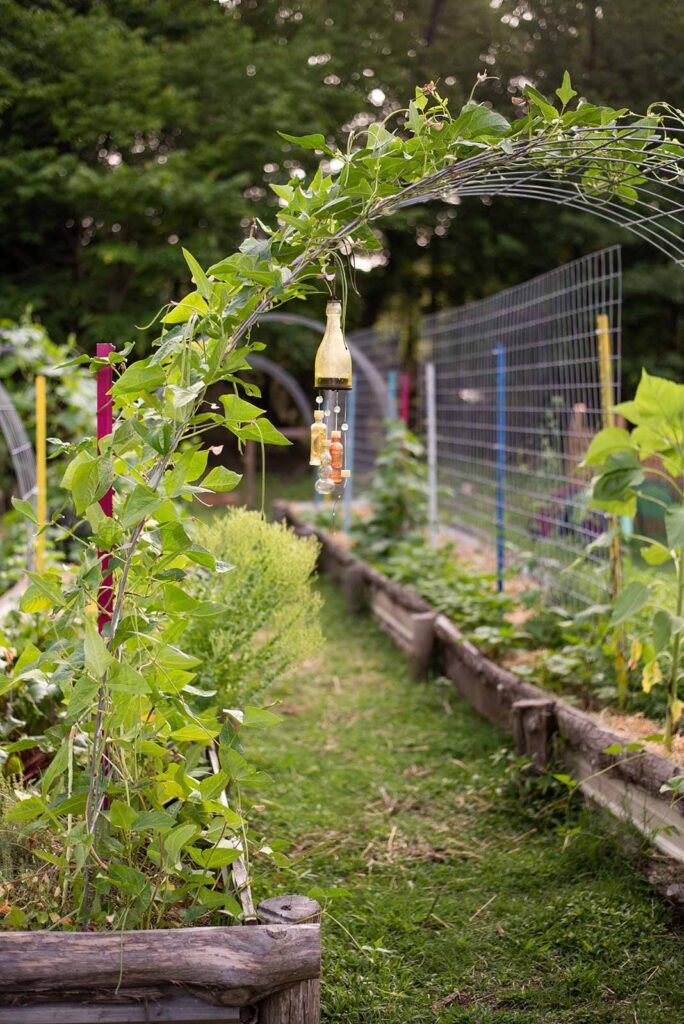 What Are Some Design Flaws with a Vertical Garden
Something important to consider when creating a vertical garden in your outdoor space is the potential damage a living wall can do to existing structures.
If vertical gardening ideas using hanging planters or hanging baskets are not installed with a proper irrigation system, water can collect along your wall or fence and cause the wood to rot.
Not only are cattle panels affordable and easy to install, but they also provide free-standing vertical planter garden spaces to grow vegetables or fresh herbs to protect your wooden wall space.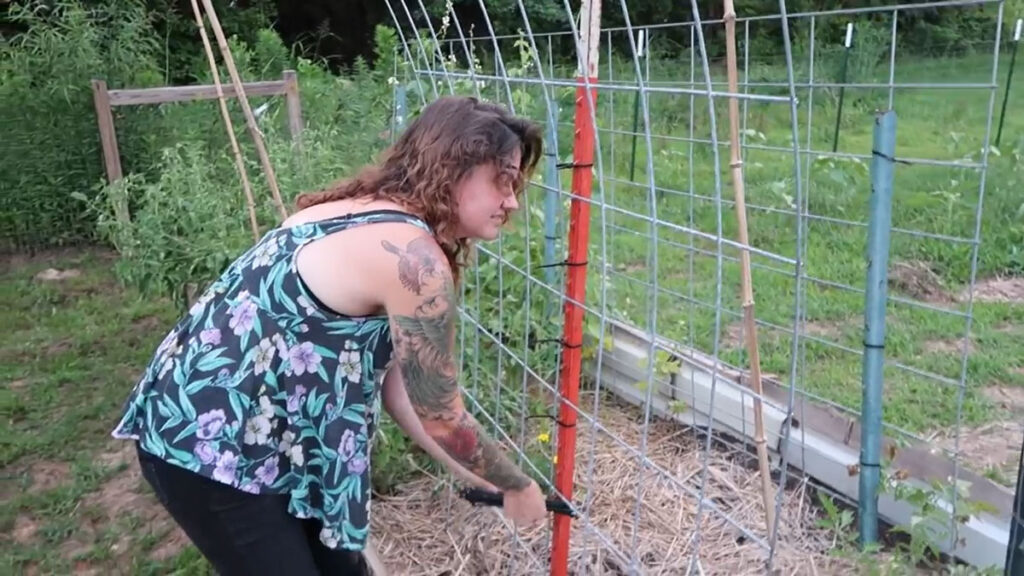 Supplies Needed
Cattle Panels – Any welded, galvanized 4-gauge steel panel such as hog panels or livestock panels work as well.
Zip Ties – Also known as a cable tie, hose tie, or tie-wrap. They can be found at automotive, hardware, or farm stores.
Bolt Cutters – If you don't specifically have bolt cutters on hand, any wire cutting tool will do, but the thicker your panels, the harder it will be. Some tractor stores that rent heavy equipment may also have bolt cutters to rent very inexpensively for a day.
Metal T-Posts – T-Posts come in a variety of lengths from 5 feet to 10 feet. Any length will work, just keep in mind the shorter the T-Post, the less height you will get out of your arches and walls. We used 6-foot T-posts for arches to connect our raised garden beds, and still had plenty of room for men over 6′ tall to walk under.
How To Build A Vertical Garden System Using Cattle Panels
Trellis Teepees
Trellis teepees are great for growing plants like small melons, squash, zucchini, and cucumbers.
Begin by choosing a place for your trellises. We placed our teepee trellis between two 4′ garden beds. You can also place the entire teepee trellis within a garden bed.
After you've picked and prepped your location, use the bolt cutters to cut two 16′ cattle panels into three equal pieces measuring 64″ each. Cut along the vertical rods to create a neat, clean edge. The other cut sides will create teeth to stick into the dirt which will hold the trellis in place. (You will probably have to cut the bottom of the third section to create teeth on one side.)
Using two cattle panel pieces, stick the teeth into the ground, angling the tops towards each other to form an A-frame.
Finish by fastening the tops together with zip ties. We recommend at least 3 or 4 zip ties per teepee.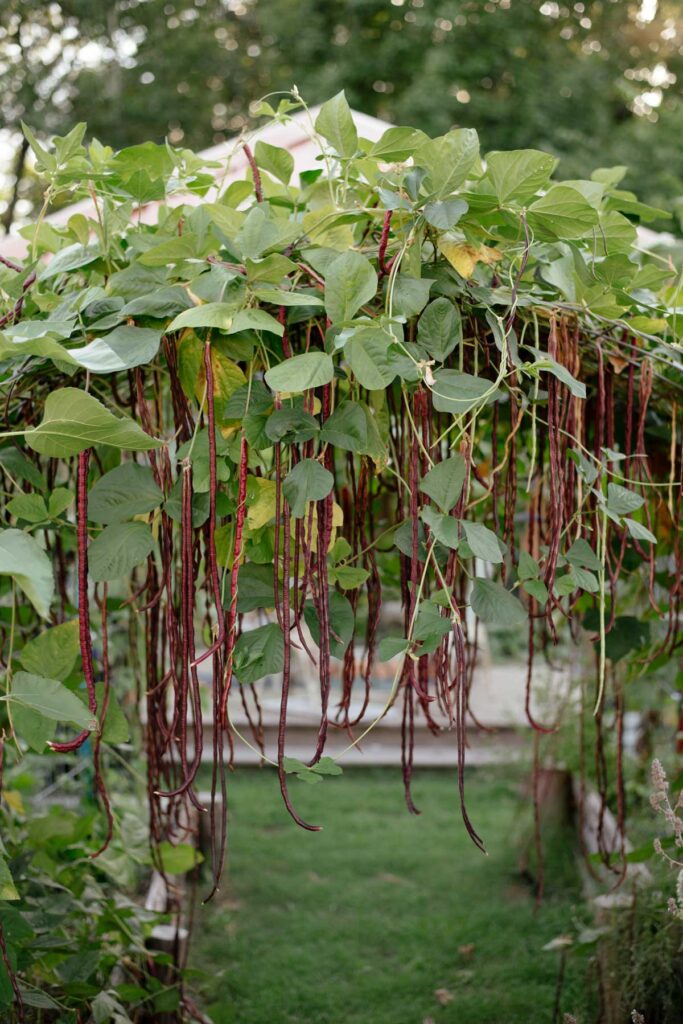 Arched Trellis or Arbors
Arched trellises create lovely, truly magical gardening spaces. We used six complete cattle panels to create arches between two of our long 48′ garden beds.
In my post on how to build a garden arch trellis, you will find step-by-step instructions (complete with a video) showing how we built ours for about $30!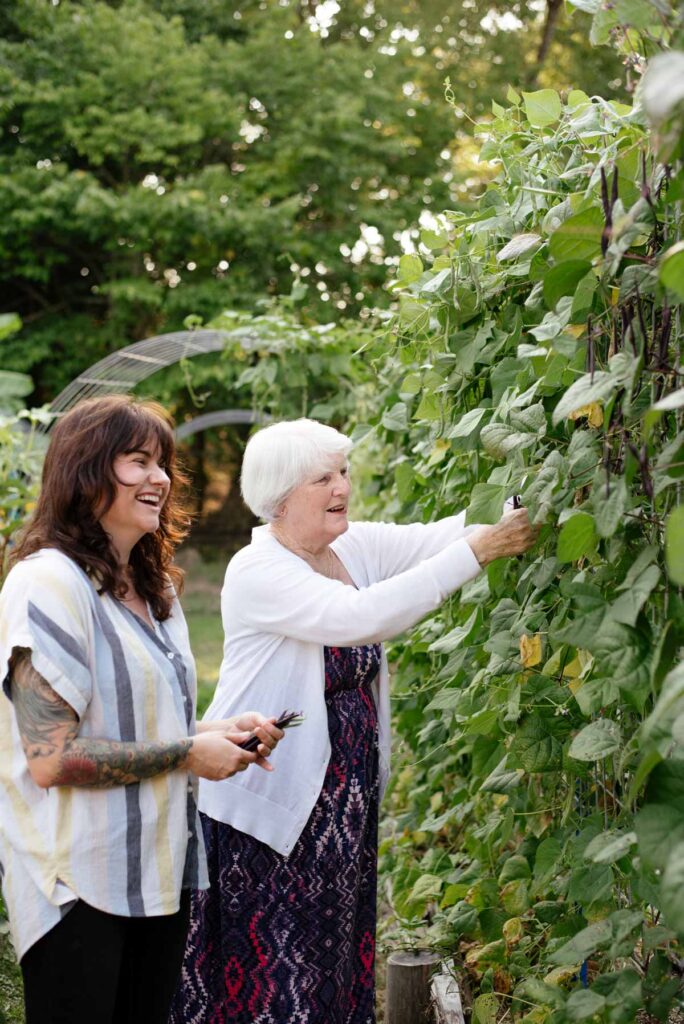 Vertical Wall Trellis
Probably the easiest of the three projects; this vertical garden wall trellis is perfect for tomatoes, peas, and beans.
Place the whole 16′ cattle panel on the ground where you would like the trellis to be. Then, mark the locations for the T-post supports (one T-post supporting each end and one in the center).
To assemble the wall planter, lay the fencing aside and drive three T-posts into the ground at the marked locations. You will want the notched side of each T-post to face toward the cattle panel.
Finally, secure the cattle panel to the T-posts using the zip ties, at least 4 zip ties per post.
For our tomatoes, we elevated the cattle panels when we attached them to the T-posts so that the bottom of the cattle panels was about 18″ above the soil. This gives the tomatoes more vertical space to climb which means more tomatoes to enjoy!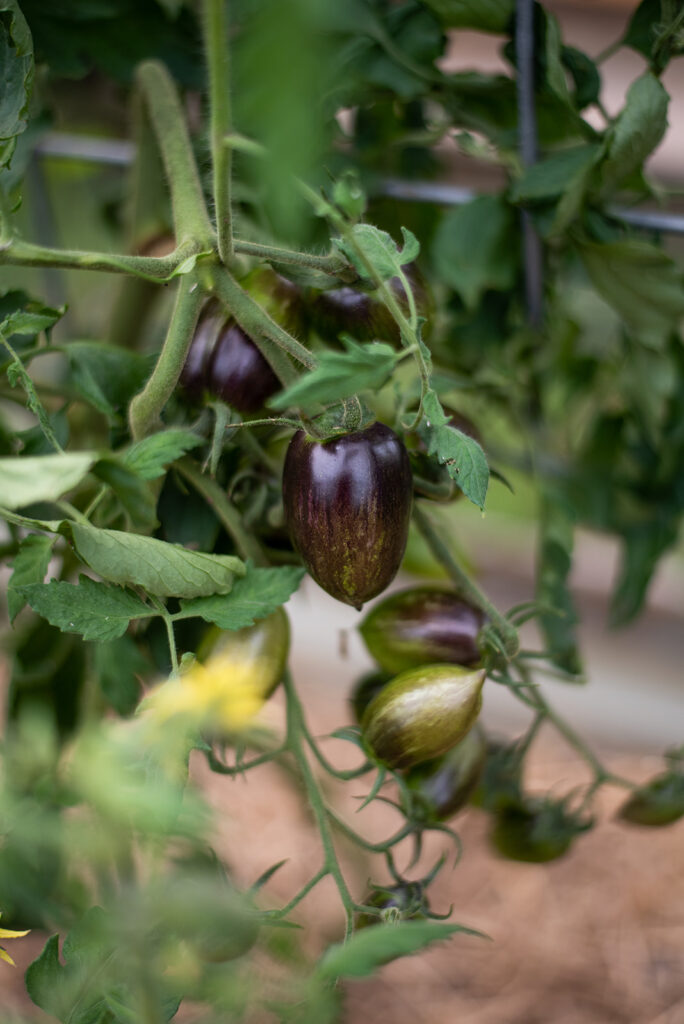 What Grows Well in a Vertical Garden
A surprising amount of plants grow well on vertical trellising. For a more comprehensive list of plants to grow vertically, as well as how to arrange plants in an outdoor vertical garden, I have put together a guide on how to plant & grow on vertical garden trellises.
More Gardening Resources