Learn how to make this easy homemade mozzarella cheese recipe using either cow's or goat's milk. Making your own cheese sounds intimidating to a lot of people, but with a little research and some patience, it's really not as scary as it sounds.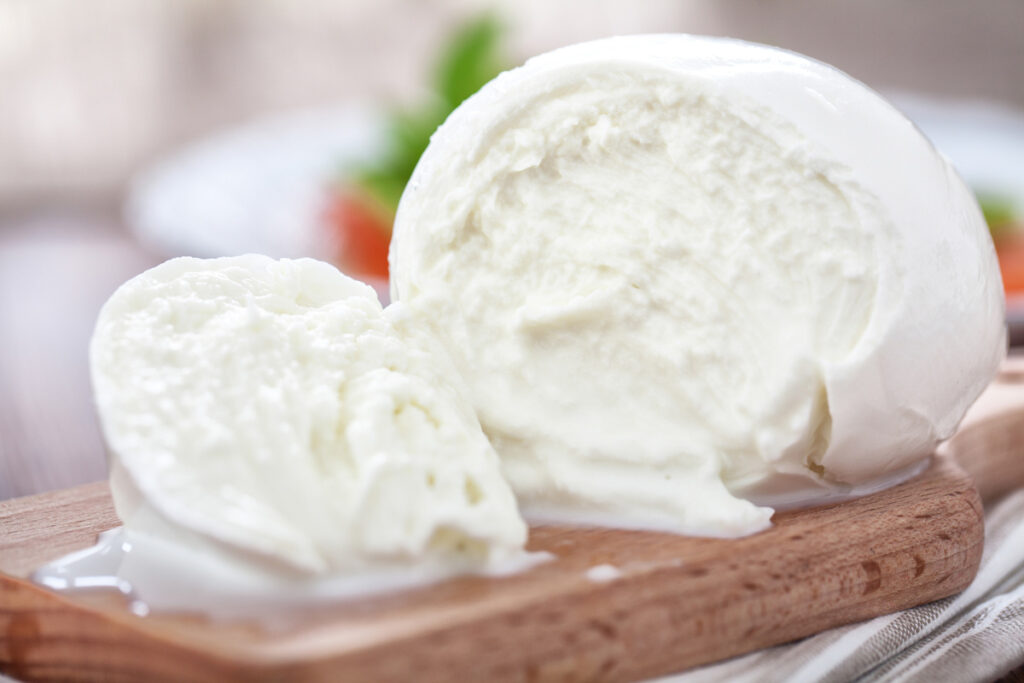 You only need a few ingredients… some of which you may not have in your pantry, so make sure to purchase them ahead of time. That way when you get the craving and the motivation, you will be ready to roll!
There are so many ways to use this deliciousness! One of the ways I like to use it is with a country-fried chicken parmesan that I make along with the marinara sauce I made from our tomatoes.
I got Miah a pizza oven for his birthday this year so we've been making a lot of homemade pizzas. Needless to say, this easy mozzarella recipe has been on repeat at our house with all our delicious cow's milk from Hope our milk cow!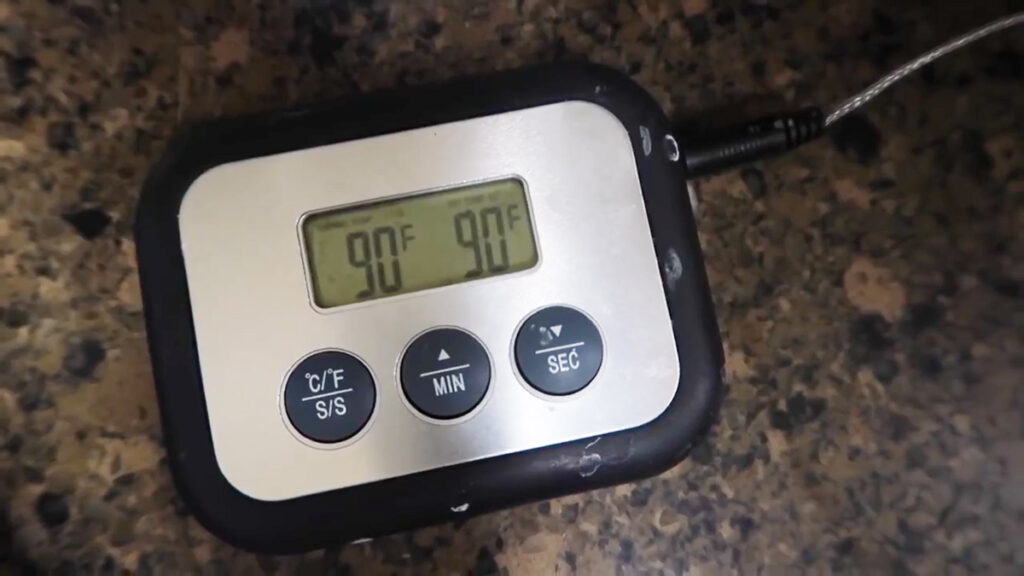 Equipment Needed to Make Mozzarella
You will need just a few basic kitchen tools. I like to set out all of my equipment before I start, so that I'm not scrambling around at a crucial point in the recipe.
Thermometer – Any kind will work but make sure it reads below 100° F. I have just a basic food thermometer with the strings and prong attached. I like it because I can set it to beep when it reaches temperature, but a candy thermometer would work as well.
Cooking Pot – Heavy bottom, non-reactive. I use stainless steel. Don't use an aluminum pan or cast-iron as those are both reactive and will be harder to monitor heat.
Mesh strainer (colander)
Microwave safe bowl
Measuring cup and teaspoon
Large knife – Long enough to reach the bottom of the pot of milk without having to dunk your hand!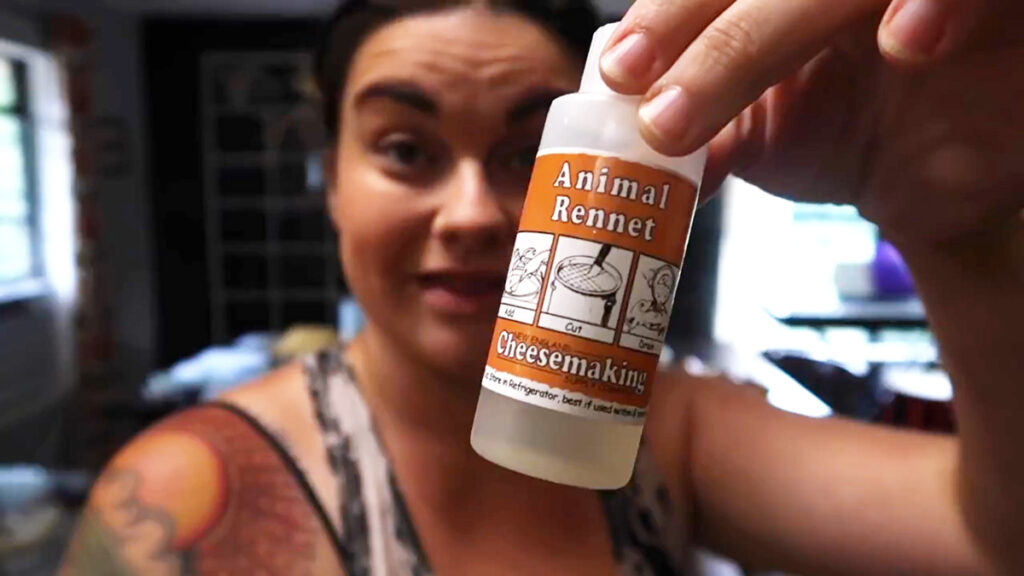 Ingredients List
One would assume that you need all kinds of complicated ingredients to make mozzarella when in fact it only requires four ingredients plus water!
Two of the ingredients, citric acid and rennet, aren't something everyone keeps in their pantry. You should be able to find them both in your local grocery store.
Rennet – A few options with this are animal or vegetable rennet and it also comes in liquid or tablet form. I use liquid animal rennet (pictured above).
Citric acid
Raw milk – I've used both raw goat and raw cow's milk, but you can also use store-bought pasteurized milk. Just know, the fresher the better!
Kosher salt
Water
How to Make Mozzarella Cheese
I am a rule follower! Even when I don't know the science behind it, if someone tells me a certain way to do something, I will do it because I'm afraid to mess it up! Therefore, my first instruction is to ice your pot!
1. Place an ice cube in the bottom of your room temperature pan and let it dissolve. My understanding is this will cool the bottom of the pan and keep your milk from scorching as it heats. I've always done this and have never scorched my milk! Another tip is to never touch the bottom of the pan with your spoon when you are stirring. This is also supposed to help prevent scorching.
2. Next, pour 1 gallon of raw milk into your pan.
3. Sprinkle 1 ½ teaspoons of citric acid on top of milk. Stir this in gently and turn your burner to medium/low heat.
4. Heat milk mixture to 90° F. This should take approximately 5-6 minutes.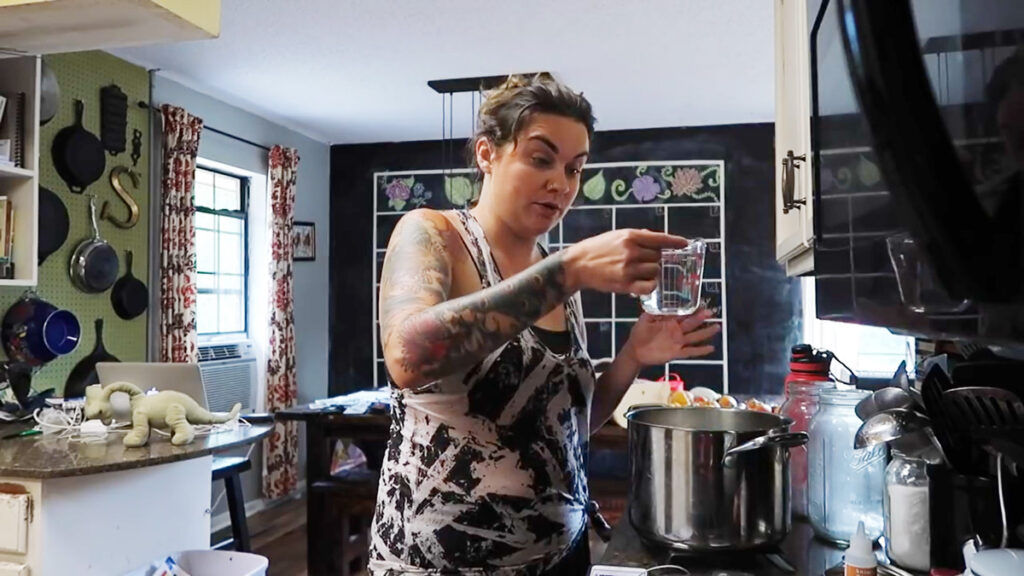 5. While the milk is heating, mix ¼ teaspoon of rennet with 1 cup of cool water. If using the tablet form of rennet, use ¼ of the tablet.
6. When the temperature of the milk reaches 90° F, take it off the burner and pour the rennet mixture gently into the milk.
7. Stir mixture very carefully for 30 seconds. Use more of an up and down, scooping motion rather than stirring around.
8. Use your spoon to stop the motion of the milk and cover with a lid. I like to use a clear lid, so that I can see what's happening!
Set a timer for 5 minutes and do not touch it! The process that is happening now is the curds and whey are separating. I'll refrain from sharing my Little Miss Muffet jokes and spare you that "cheesiness!"
9. Take a knife and check the solidity. You're looking for a "clean break". Once you poke your knife through the surface, if it starts to firm up enough to loosely slice through it, go ahead and cut a grid-like pattern into the mixture cutting all the way to the bottom of the pan.
If the mixture isn't quite firm enough to cut after 5 minutes of sitting, put the lid back on for 1-2 minutes. Sometimes, the temperature of your kitchen and other conditions will fluctuate which will affect the timing.
10. After making your cuts, place the pot back on the burner over medium heat. While gently stirring with a slotted spoon, heat the milk to 105° F. This breaks down the curds and lets them start to melt. When curds reach 105° F, take the pot back off the burner and begin to carefully spoon the curds into your strainer.
Have the strainer draining the whey into your microwave-safe bowl. You will want to save the whey to pour back into the big pan. After you have all of the curds scooped out, squeeze them down to press out the whey. Next, empty the whey into the large pan and dump the curds into the microwave-safe bowl.
11. Microwave the curds for 1 minute on regular heat. Take out and squeeze out the whey again.
Continue to microwave in 30 second increments for approximately 3 more rounds, squeezing out the whey in between.
12. Do the stretch test! You want to be able to stretch it at least 12 inches before it breaks apart to know you've stretched and folded it enough.
Fold cheese over itself and repeat in the microwave until you can stretch it the proper distance. The finished product should be smooth, stretchy, and shiny!
13. Add salt to taste, I use about 1 teaspoon of kosher salt. Work it in and enjoy the yumminess!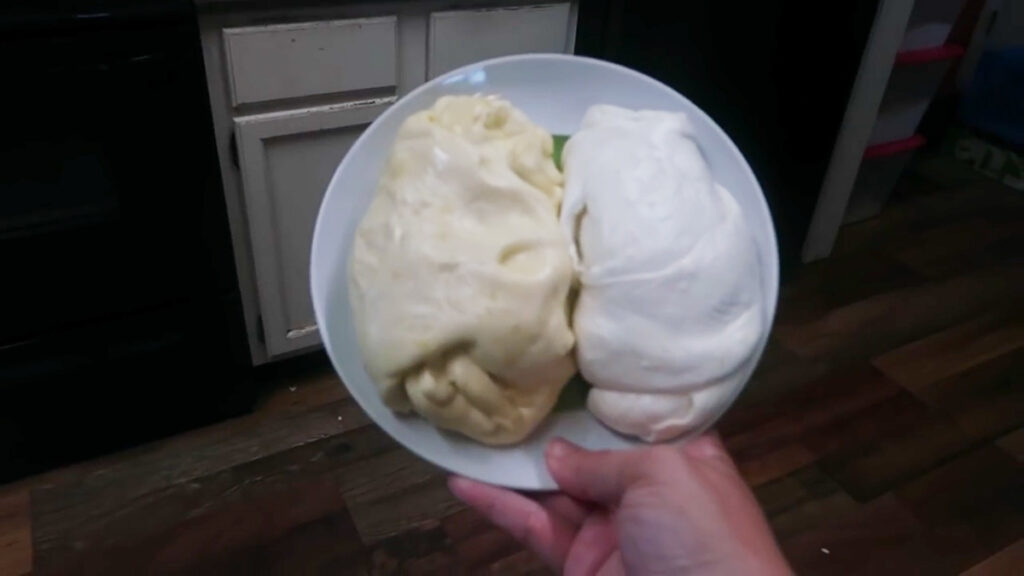 How to Store Mozzarella Cheese
If you aren't using the mozzarella cheese immediately, place it in a container and pour a little of the whey over it. You can keep it in the refrigerator for almost a week.
It's also possible to freeze mozzarella for up to 6 months. Defrost it in the refrigerator and when ready to use, I like to heat it up in the microwave again.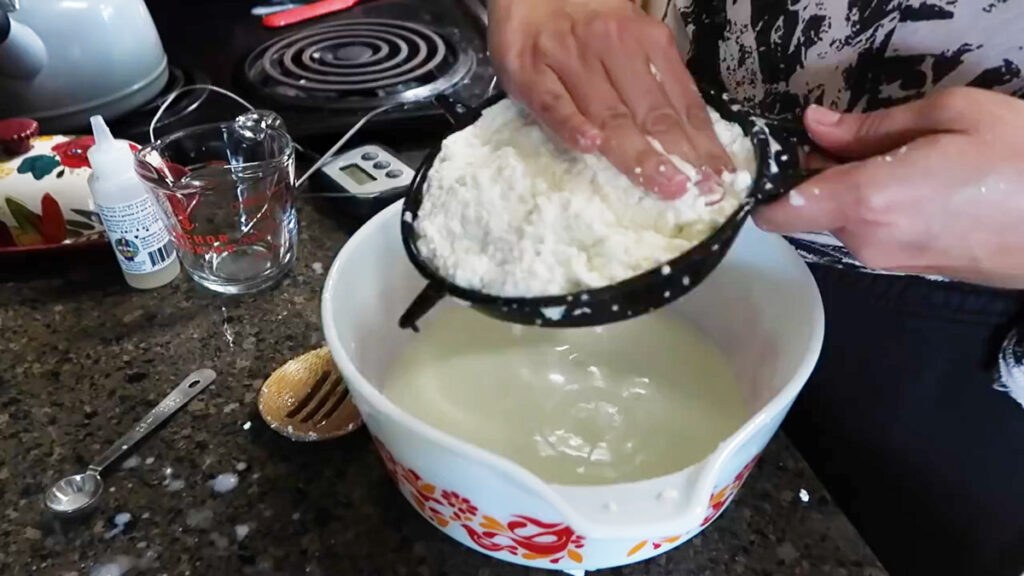 How to Use Whey
Don't throw it away! There are many uses for it. It is a good substitute for buttermilk. You can also use it to add good nutritional value to smoothies, feed it to your animals, or pour it in your garden!
More Related Posts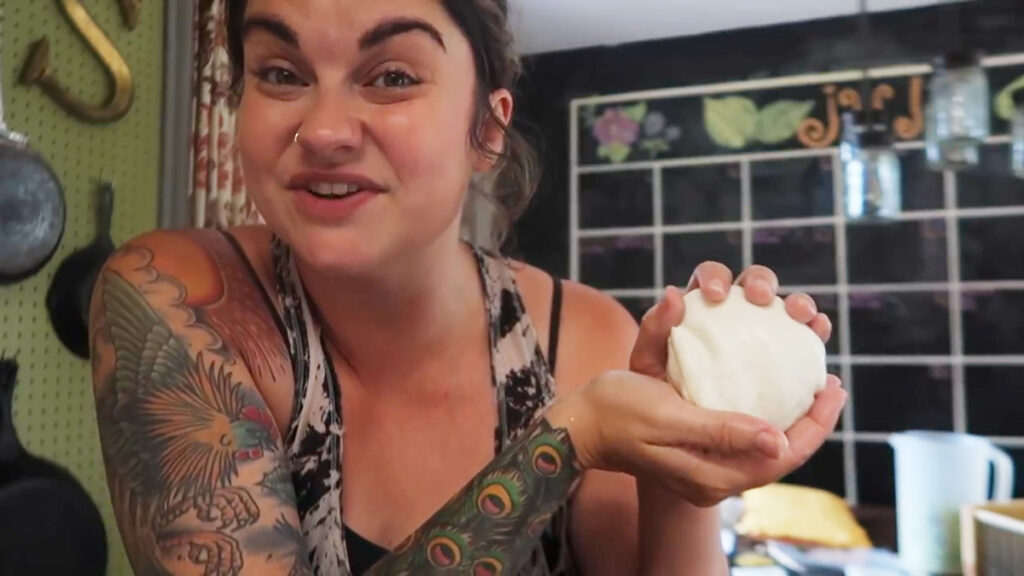 Did you enjoy this recipe? If so, we'd love for you to leave a star rating in the recipe card below. Then snap a photo and share it on social media. Be sure to tag us @roots_and_refuge so we can see!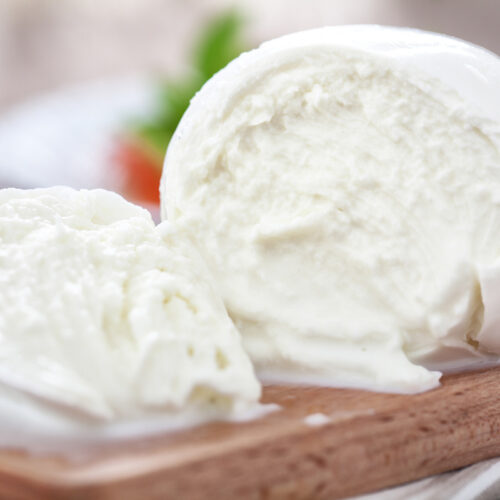 Homemade Mozzarella Cheese (Cow's or Goat's Milk)
Making your own homemade mozzarella cheese sounds intimidating to a lot of people, but with a little research and some patience, it's really not as scary as it sounds. 
Print
Pin
Equipment
Large heavy-bottom pot

Microwave safe bowl

Thermometer
Ingredients
1

gallon

raw milk

1 1/2

teaspoon

citric acid

1/4

teaspoon

rennet

or 1/4 tablet

1

cup

cool water

1

teaspoon

kosher salt
Instructions
Sprinkle citric acid over milk.

Turn burner to med/low and heat mixture to 90° F (approx. 5-6 min).

Take milk off heat when it reaches 90° F and add rennet, stirring gently for 30 seconds.

Cover with lid and do not touch for 5 minutes.

Cut a grid pattern into mixture to separate the curds. Put back on burner and heat to 105° F.

Scoop curds into mesh strainer and pour off the whey.

Microwave for 1 minute. Squeeze curds again to remove more whey and continue to microwave in 30- second increments until the cheese can be stretched at least 12 inches without breaking.

Add salt and knead it into the cheese.

Form into a ball and enjoy!
Notes
Store mozzarella in an airtight container in the refrigerator for up to a week, cover with whey for best results. 
This recipe works for raw cow's or goat's milk as well as pasteurized milk.
If using pasteurized milk you'll need to heat and stretch the cheese longer than the demonstrated raw milk.
Nutrition
Serving:
1
ounce
|
Calories:
146
kcal
|
Carbohydrates:
11
g
|
Protein:
7
g
|
Fat:
8
g
|
Saturated Fat:
4
g
|
Polyunsaturated Fat:
1
g
|
Monounsaturated Fat:
2
g
|
Cholesterol:
24
mg
|
Sodium:
247
mg
|
Potassium:
312
mg
|
Sugar:
12
g
|
Vitamin A:
383
IU
|
Calcium:
267
mg
|
Iron:
1
mg