Vegetable container gardening in window boxes, a terra cotta pot, plastic pots, and hanging baskets are all great ideas, but have you heard of a GreenStalk planter? Read on to learn a better way to plant at home when you have limited space or poor soil. They are truly the best solution I have found.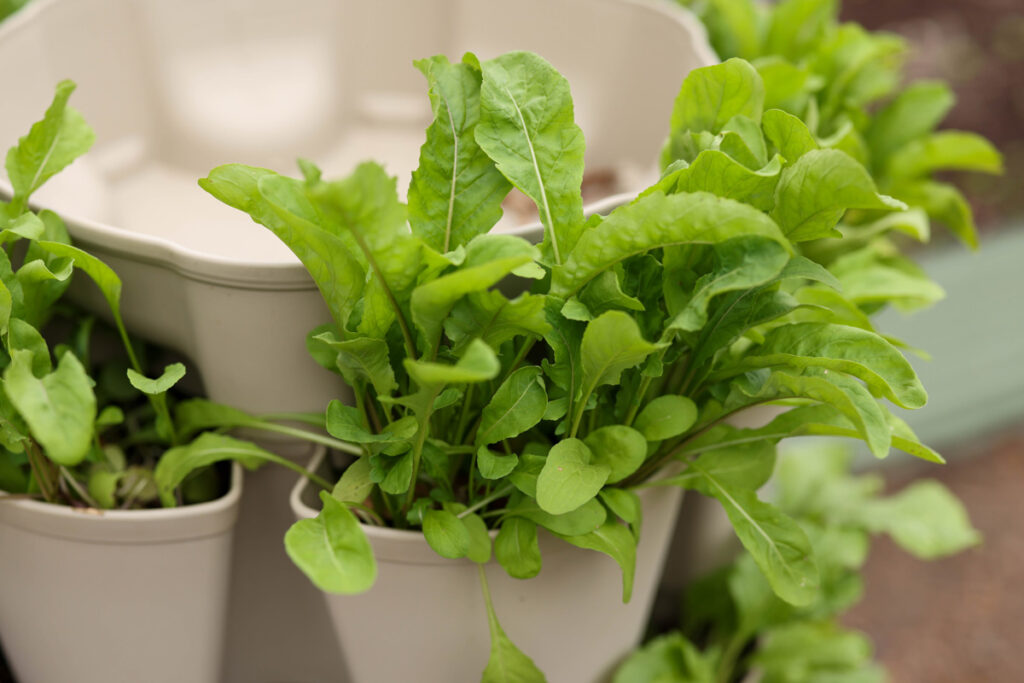 You all know how much I love growing with different methods other than a traditional in-ground garden.
I've shared how to build raised garden beds, how to grow lettuce year-round in a soil bag, and even how to create a raised garden bed with a $7 kiddie pool.
Out of all the methods, I do happen to love my GreenStalks the best. I am an affiliate with GreenStalk, but if you've been around here for long you'll know I've been growing in GreenStalk planters for many years now (watch my three-year GreenStalk update video further down in this blog post).
Click here to get my favorite GreenStalk planters (using coupon code "ROOTS10" will get you $10 off your order.)
What Are GreenStalk Planters?
GreenStalk is a vertical garden designed to grow a lot of food in very little space. Each tier of the GreenStalk planter has six planting pockets where you can plant a variety of flowers, herbs, fruits and vegetables.
The GreenStalk planter is made from food-grade plastic #5 and is free of BPA, PVC and BPS. It carries a 5-year warranty and comes in several different colors and sizes.
The GreenStalk Vertical Planters have a patented watering system so that each level gets proper watering, unlike some vertical planters where the water has to pass through the soil above it, leaching out the nutrients from the top level and never getting enough water to those lower levels.
Each tier has 12 drainage holes so there is never any excess water left in the system. This is extremely important for those plants that don't like wet feet.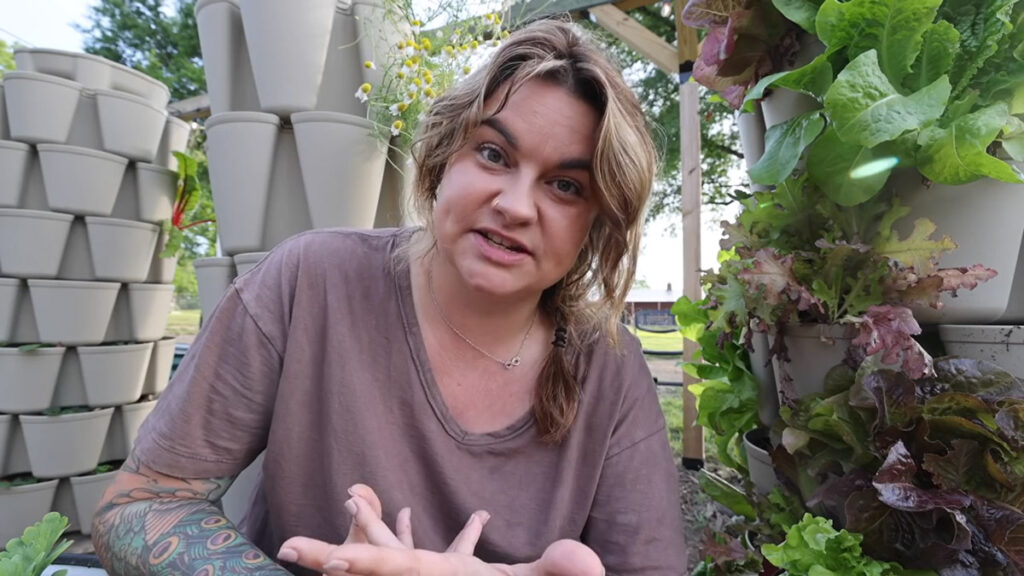 Types of GreenStalk Planters
The planters come in a variety of sizes based on your planting needs.
Original Planter – The original GreenStalk Planter has 10-inch planting pockets. This provides plenty of space for larger plants with deep roots. Each tier holds 8 gallons of potting mix. You can get the original in three to seven tiers giving you 18-42 planting pockets.
Leaf Planter – The tiers of the leaf planter are 7 inches tall and each one holds 5 gallons of potting mix. This planter is ideal for those smaller plants that don't have deep roots like salad greens. You can also get the leaf planter in three to seven tiers.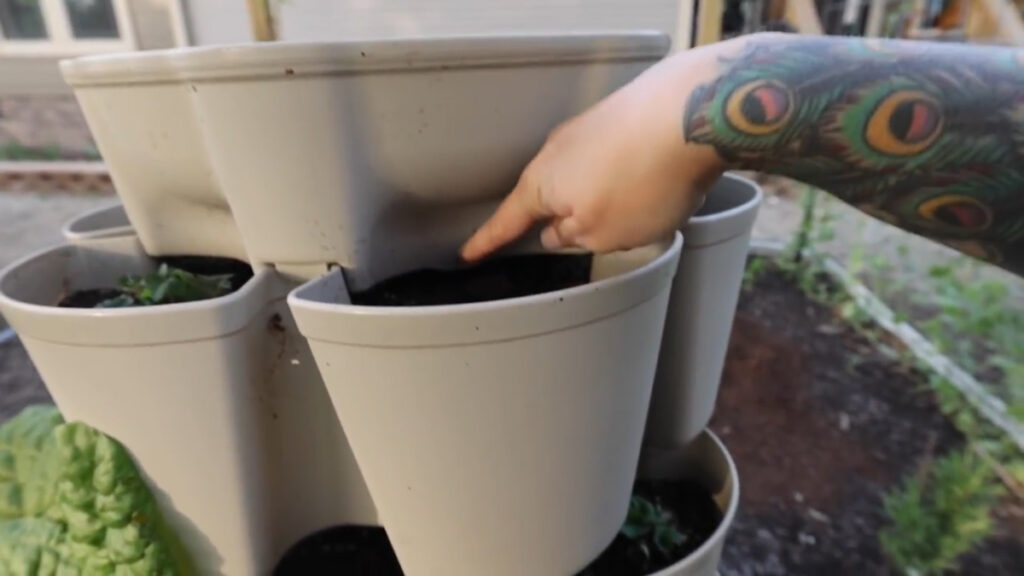 Why I Love the GreenStalk Planter
Great for Small Spaces
GreenStalk planters only take up about one square foot of space. They're great for small spaces like apartments where you don't have garden space and also for rentals when you aren't allowed to dig up the ground.
Beautiful
They are a tall focal point for any garden that fills out and looks absolutely beautiful. My favorite thing to do in my GreenStalk planer is to interplant flowers with the vegetables I'm growing.
Eliminate Dirt and Pests
By keeping your plants up off the ground, you can eliminate pests like slugs. Also, by having your plants up off the ground they will stay much cleaner and won't get the splashback of dirt while watering. Because of the patented holes in the bottom of the planter, you never have to worry about your plants sitting in excess water.
Green Stalk Vertical Planters are Great for People With Disabilities
GreenStalk offers the Ultimate Spinner Base so that someone in a wheelchair can easily spin the planter while watering from a seated position. They also carry the GreenStalk Mover which makes it easy to move your GreenStalk planter from one location to another.
No Weeding Involved
My favorite thing about GreenStalk gardening is that you never have to weed them. What a time saver!
Supplies Needed For a GreenStalk Planter
An Original GreenStalk Planter or Leaf Planter – The Original GreenStalk planter is recommended for plants with deep roots like strawberries while the Leaf Planter is recommended for those smaller plants like salad greens.
Plant Seeds or Plant Starts – Starter plants will give you instant gratification but seeds work great too and will help offset the initial investment.
Potting Mix – I would highly recommend using potting mix instead of garden soil in container gardening. Garden soil is denser and it gets too compacted. Potting mix contains compost, peat moss and perlite to provide air space in the soil. This makes for healthier plants. I like Fox Farm and Bacto potting mixes because they don't contain a lot of debris.

You do not have to change out your soil every season. That would not be cost-effective. I recommend using worm castings, compost and compost teas to amend your soil. For plants like strawberries that stay in the planter year after year, you can amend the soil around the plants. For plants like lettuce that come out at the end of the season, you can wait until the growing time is over, pull the plants and amend the soil at that time.

Fertilizer – You will need to add fertilizer to your GreenStalk planters. I like this organic fish emulsion fertilizer to give those new plants an extra boost of nutrients.
Water – When watering your GreenStalk vertical planters, you should put water into the top watering disc until water starts coming out the bottom. If your planter is sitting somewhere that you don't want to get wet you can use the Ultimate Spinner Base, or the GreenStalk Mover to collect extra water. Both of these products come with tubing to redirect water off your deck or into another container.

Container gardens dry out faster, especially when in full sun so you may need to water as often as every other day. Pro-Tip: Set up your GreenStalk near a water source so that you don't need to haul water. Just stick your hose in the top and in a couple of minutes, your watering will be done.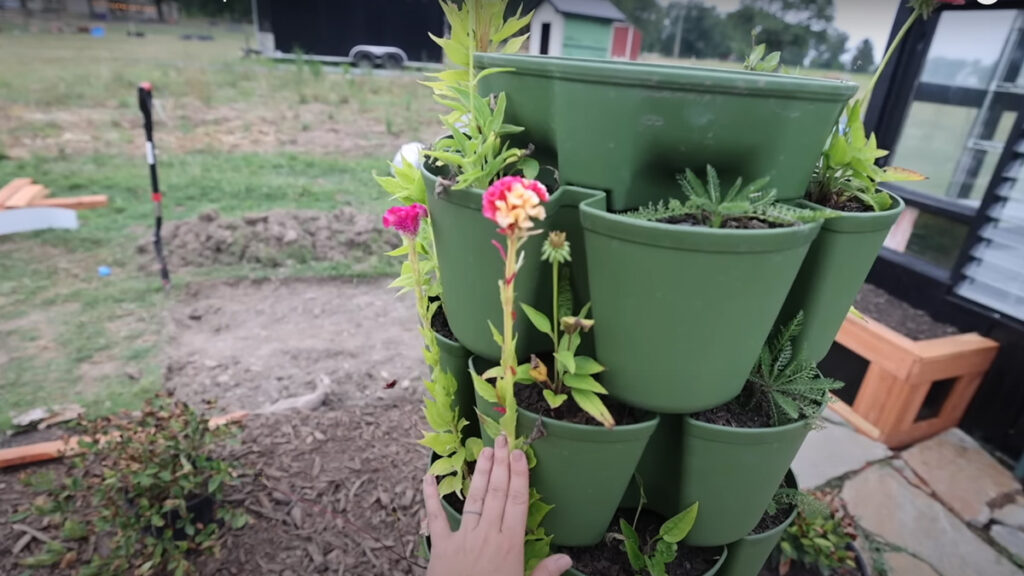 Using GreenStalks for Container Gardening
You can watch a GreenStalk planter assembled from start to finish in this video from Greenstalk. I find it very helpful to be able to see something done before doing it myself.
Fill each tier of your planter with potting soil and add your fertilizer now (unless you're using liquid fertilizer which you can add at the end when you are watering). Each tier of the Original GreenStalk planter will hold 8 gallons of potting mix and each tier of the Leaf GreenStalk Planter will hold 5 gallons of potting soil so plan accordingly. For best results, fill with soil to the top of the planter.
Once the planter is filled with soil, put seeds or potted plants into each planting pocket. Pack the potting mix firmly around the base of your plants to keep them secure. The planting pockets are deep enough to plant roots with a good amount of room to grow.
The GreenStalk Original and GreenStalk Leaf Planters come in three-tier, five-tier and seven-tier options. Once your plants or seeds are planted, stack the tiers either on the ground or on the GreenStalk Ultimate Spinner Base or the GreenStalk Mover.
Add water to the top watering disc until water comes out the bottom of the planter. You can add your liquid fertilizer at this time. The GreenStalk patented watering system is designed for the water to drain through the entire planter in about five minutes. Any extra water will drain out and away from the bottom of the planter. You may need to water a few times if you started with dry soil. I like to use pre-moistened soil, but this can also make the tiers difficult to lift. So just keep that in mind when setting them up the first time.
Three Fun Ways to Use Your GreenStalk Vertical Planter
Herb Garden – Cooking with fresh herbs is such a luxurious thing. Even if you are preparing spaghetti sauce from a jar, fresh herbs will take it to the next level. Herbs can be left in the GreenStalk Vertical Planter season after season and will save you a fortune at the grocery store. I would start with basil, sage, oregano, rosemary, chives, dill, parsley and thyme.
Tea Garden – Dried tea can be very expensive, especially if you're buying it organically. A tea garden could include holy basil, chamomile, mint, lemon balm, echinacea and bee balm.
Salsa Garden – How fun would it be to have everything you need for growing salsa in one place? My GreenStalk Vertical salsa garden would include tomatoes, peppers, herbs, onions, garlic and cilantro.
Do let me know if you decide to get yourself a GreenStalk Planter (and don't forget to use my discount code "ROOTS10" for a $10 discount). Then once your vertical garden is growing snap a photo and tag me on social media @roots_and_refuge because I'd love to see it!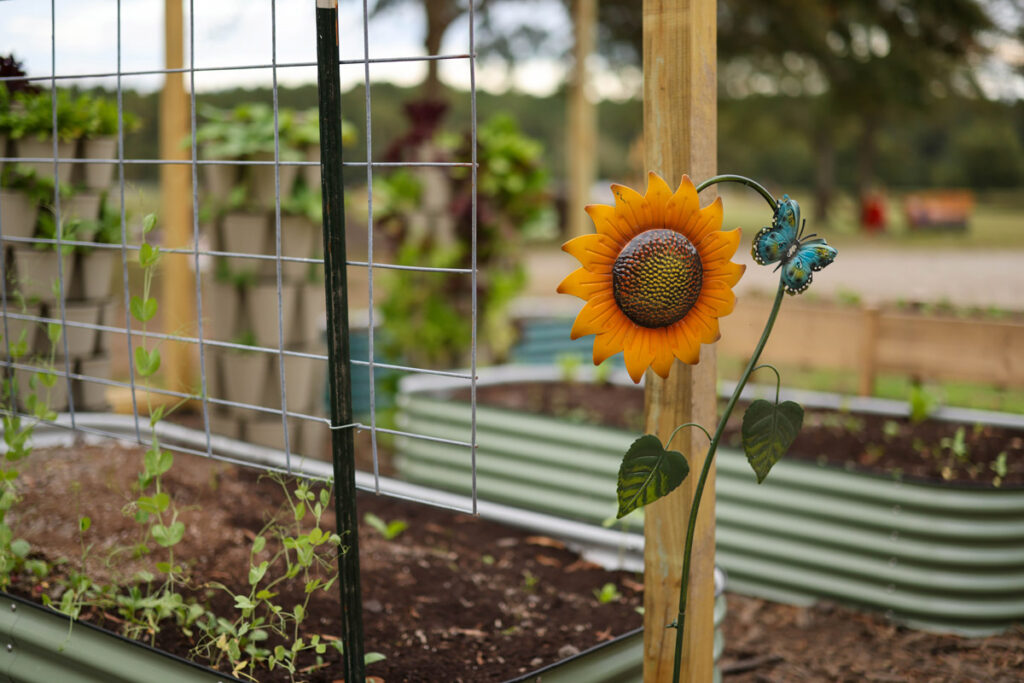 More Garden Tips