Homemade wassail is traditionally a warm cider drink with the flavors of apple cider, orange juice and mulling spices (like cinnamon and clove) served during the holidays. Mix up this wassail recipe for your next gathering and enjoy the delicious aroma as it fills your home.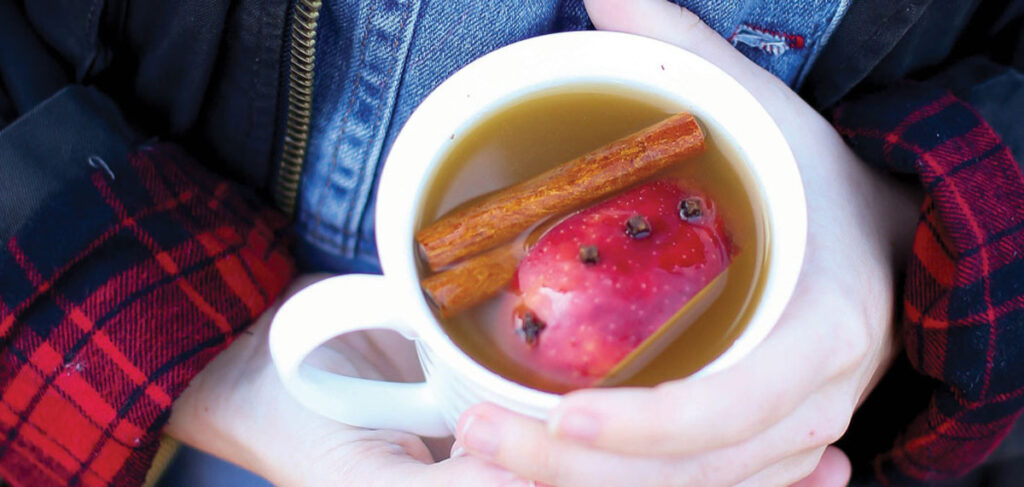 Why I Love This Recipe
This wassail recipe has become my favorite drink for the holidays. The scent of it simmering on the stove gives me all of those cozy wintertime feels.
It evokes an image in my mind of sitting by the fire, wrapped in a cozy throw, snuggling with my husband and kids. My favorite times to make it are when the summer season gives way to fall, on Thanksgiving day, when we bake Christmas cookies, and the night we decorate our Christmas tree!
All the smells really set the atmosphere and get us ready for all the Christmas fun!
What Is Wassail?
Wassail is traditionally known as a holiday drink made with hard liquor, apples, brandy, and other spices. Think of it like a fancier hot apple cider.
This recipe is a delicious blend of orange and apple juice plus spices like cloves and cinnamon. You could certainly add alcohol by adding a splash of brandy, rum or bourbon.
Where Did Wassail Come From?
The origin has a couple of different opinions. The first place I heard of it was from Beowulf, which was known as a toast (or wise hail) rather than a drink. The drink they would serve was usually something like a mulled wine or spiked cider, so I think that's part of how it got its name.
This one that I'm less familiar with was part of a pagan tradition called wassailing. Pagans would gather to sing in orchards to the cider-making trees in hopes of ensuring a good harvest for the following season.
Wassail, as we know it today, is a warm, spiced apple drink. The combination of apples, oranges, cinnamon, and other spices smells amazing and tastes even better.
What Is The Difference Between Wassail and Mulled Cider?
Honestly, there isn't much of a difference. They are both a spiced juice drink, and in my recipe, you can actually use apple cider instead of apple juice if you choose to.
Wassail will likely lean more heavily on spices, while mulled cider will have more of a mixed juice flavor.
Ingredients
If you've followed my recipes for any amount of time, you have probably figured out by now that I'm all about the "about, almost, or close to" descriptions in my recipes.
This wassail recipe is a fine example of that! In my opinion, that's the beauty of it. You can adapt it to fit the crowd you're making it for.
When I make homemade wassail for my kids, I tend to hold back on the spices and leave it milder and fruity. When I make it for my husband or other adults, I will kick up the spices a notch.
Apple Juice or Apple Cider – You can use either, and I have used both. If you're buying spiced cider, you may want to reduce the amount of spices.
Orange Juice – I like to use approximately a 1:3 ratio of orange juice to apple juice. The apple flavor should be what shines through with a hint of citrus.
Cinnamon Sticks – Just toss them in whole!
Oranges – Be sure to wash your orange before adding to your drink. You can get fancy with how you slice it, or just cut it into smiles. If you don't want your wassail to end up bitter, you can always remove the outer rind. The wassail usually only turns bitter if you're simmering it for a very long time. Alternatively, you can just remove the orange slices after the flavors have melded.
Apples – Be sure to wash your apple before slicing and adding them to your pot. I like to stud my apple slices with the cloves to keep them from floating around and accidentally ending up in someone's cup. You can use a combination of green and red apples to up the presentation factor.
Cloves – Heed my warning to measure your cloves out in a separate container. I've gotten a little carried away in the past and accidentally added a few too many. Clove can be a very overpowering flavor. It's always safe to err on the cautious side and add more if needed.
Sweetener (optional) – You can add sugar, brown sugar, honey, maple syrup, or even a caramel sauce to sweeten it up.
Back in the day, Starbucks used to carry a drink where they would drizzle the cup with caramel sauce before adding the apple cider, and it was so delicious. Drizzling caramel sauce in your mug before filling it with Wassail reminds me of that.
Variations and Additional Spices
The ingredients above make a delicious wassail on their own, but feel free to mix and match and make your own delicious creations!
Star anise – I can find these at my local store. Just a couple will do.
Juniper berries – These can sometimes be purchased in the spice aisle. You may need to search for them online.
Hibiscus – A pre-packaged tea bag work well for this, or buy dried.
Fresh ginger – Grate about half to one teaspoon little directly into the pot!
Nutmeg – Add a pinch for an extra depth of flavor.
Lemon Juice – A Tablespoon or two of freshly squeezed lemon juice can help cut the sweetness and add a nice balance to all the flavors.
How To Make Homemade Wassail
In a large pot over medium heat, add apple juice, orange juice, sliced fruit and all seasonings.
Bring to a boil, then reduce the heat to a simmer.
Cover and allow to simmer on medium-low for 15 minutes up to an hour.
Serve hot with optional garnish.
The longer you can simmer it, the better the flavors will meld. See below for my make-ahead or crockpot directions.
How to Serve Wassail
Sweeten (if desired) and serve hot.
When I'm feeling fancy, I like to drizzle caramel sauce in the mug before adding the hot wassail.
Garnish each mug with an orange slice (if you're feeling fancy).
Make Ahead Directions
If I'm making this wassail recipe for guests, I like to start it early on really low heat and let the aroma permeate through the kitchen before guests arrive.
The wassail is ready to drink when the color gets a little darker, the fruit is softened, and all of the flavors are infused.
How to Make This Wassail Recipe in a Crockpot
Another great way to make it is in a crock pot. This might take about 3 to 4 hours on the lowest heat setting.
More Drink Recipes You May Enjoy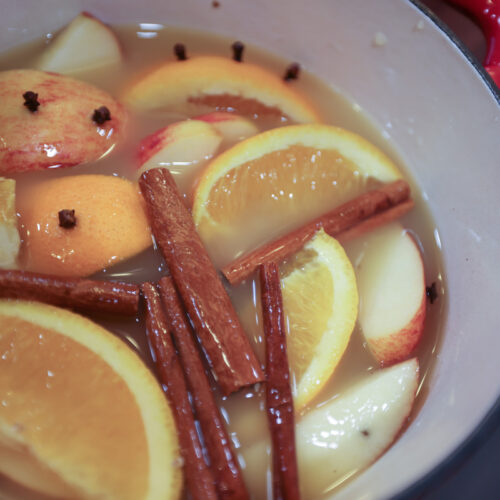 Homemade Wassail Recipe
Wassail is traditionally a warm cider drink with the flavors of apple cider, orange juice and mulling spices (like cinnamon and clove) served during the holidays. Mix this up for your next gathering and enjoy the delicious aroma as it fills your home.
Print
Pin
Ingredients
4

cups

apple juice

(or apple cider)

1

cup

orange juice

4

cinnamon sticks

1

Tablespoon

cloves

1

apple

(sliced)

1

orange

(sliced)
Instructions
In a large pot, add apple juice, orange juice, sliced fruit and all seasonings.

Place over medium-high heat until it begins to boil.

Reduce to a simmer, cover and cook for one hour.

Add sweetener to taste, and serve hot.

Garnish with a sliced orange, a dash of cinnamon or a cinnamon stick.
Notes
You can cook wassail in a hurry by simmering for about 15 minutes on the stove, but the flavors will meld and be much better if you simmer it for an hour. 
Use a crockpot for this recipe – add all ingredients to a crockpot, cover and cook on low for 3-5 hours. 
Nutrition
Serving:
10
ounces
|
Calories:
219
kcal
|
Carbohydrates:
53
g
|
Protein:
2
g
|
Fat:
1
g
|
Saturated Fat:
1
g
|
Polyunsaturated Fat:
1
g
|
Monounsaturated Fat:
1
g
|
Sodium:
15
mg
|
Potassium:
697
mg
|
Fiber:
1
g
|
Sugar:
45
g
|
Vitamin A:
272
IU
|
Vitamin C:
105
mg
|
Calcium:
47
mg
|
Iron:
1
mg